AAUW International Fellowships 2022/2023 in USA for Women
Amazing funding opportunities on offer to international students across the globe seeking to pursue their academic studies in the United States. Applications for the AAUW International Fellowships program are currently open to international (specifical women) students who wish to enroll in a full-time study or research in the United States.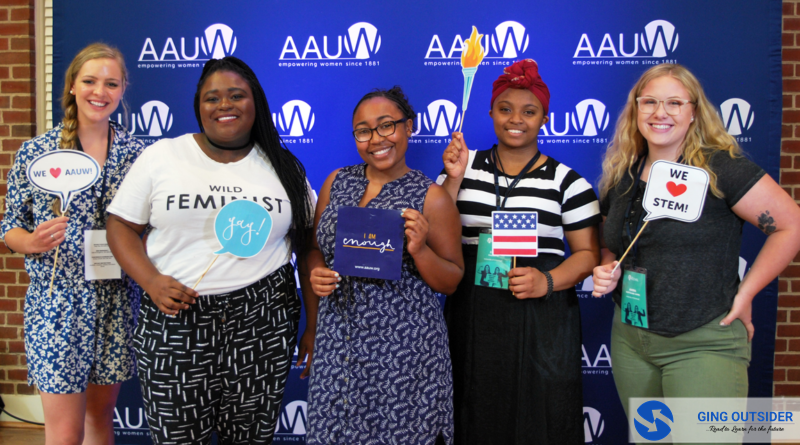 Moreover, the AAUW offers International Fellowships for full-time graduate and postgraduate studies or research at US accredited institutions to women who are not citizens or permanent residents of the United States. However, in this article, we will provide information in detail about the AAUW International Fellowships, its eligibility requirements, scholarship benefits, application procedures, and any other important information pertaining to the AAUW scholarships.
About The AAUW International Fellowships Program
AAUW (the American Association of University Women), was officially founded in 1881. It is a non-profit organization that advances equity for women and girls through advocacy, education, and research.  The organization has a nationwide network of 170,000 members and supporters, 1,000 local branches, and 800 college and university partners. The organization's headquarters are in Washington, D.C. AAUW's CEO is Kim Churches.
However, in 1887 the organization established a fellowship program for women. With the aim of supporting women's education through fellowships. Moreover, the AAUW International Fellowships are awarded for full-time study or research in the US to women who are not U.S. citizens or permanent residents. Both graduate and postgraduate studies at accredited U.S. institutions are supported.
Recipients are selected for academic achievement and demonstrated commitment to women and girls. Recipients return to their home countries to become leaders in business, government, academia, community activism, the arts, or scientific fields. Furthermore, the AAUW is one of the world's largest sources of funding exclusively for women. The program provides nearly $5 million annually, in fellowships, grants, and awards for women and for community action projects.
Read Also: International Scholars Program at The University of British Columbia / Undergraduate Scholarships in Canada for International Students
Scholarship Summary
Moreover, here's an overview of the AAUW International Fellowships in the United States for Women.
Scholarship Sponsor(s):
The American Association of University Women (AAUW)
Host Institution(s):
Accredited Institutions in the United States of America
Scholarship Type:
Full funding scholarships
Scholarship Level:
Graduate and postgraduate studies
Field(s) of Study:
Full-time graduate or postgraduate study programs or courses at accredited US institutions
Number of Scholarships:
Not specified
Scholarship Value:
See the scholarship benefits section for details
Eligible Nationalities:
Women who are not United States citizens or permanent residents.  Preference is given to women who show prior commitment to the advancement of women and girls through civic, community, or professional work.
Scholarship Deadline:
The application deadline for the 2022-2023 academic year is 15 November 2021
Scholarship Benefits or Inclusions
Furthermore, the AAUW International Fellowships program provides the recipients with the following inclusions.
Master's/first professional degree: $18,000
Doctoral: $20,000
Postdoctoral: $30,000
However, the International Fellowship funds are available for:
Educational expenses.
Living expenses.
Dependent child care.
Travel to professional meetings, conferences, or seminars that do not exceed 10% of the fellowship total.
The Fellowship funds do not cover the following expenses:
Purchase of equipment.
Indirect costs.
Research assistants.
Previous expenditures, deficits, or repayment of loans.
Publication costs.
Institutional (overhead) costs.
Tuition for dependent's education.
Grants-in-aid for less than a full academic year or travel grants.
Travel to or from a fellow's home country.
Travel to or from the fellow's research location, if abroad (does not apply to fellows who are GWI members with AAUW approval to study or research in a country other than their own).
Eligibility Requirements for The AAUW International Fellowships
However, you must meet the following criteria below in order to be eligible for the AAUW International fellowships program. Therefore, applicants must:
International Fellowships are not open to previous recipients of any AAUW national fellowship or grant (not including branch or local awards or Community Action Grants).
Have citizenship in a country other than the U.S. or possession of a nonimmigrant visa if residing in the U.S. Women who are currently, or expect to be during the fellowship year, a U.S. citizen, U.S. permanent resident, or dual citizen with the U.S. and another country are not eligible.
Hold an academic degree (earned in the U.S. or abroad) equivalent to a U.S. bachelor's degree completed by November 15, 2021.
Intend to devote themselves full-time to the proposed academic plan during the fellowship year.
Intend to return to their home country to pursue a professional career and upon completion of their studies.
Be proficient in English and confirm proficiency by submitting required English proficiency test scores
Master's/first professional degree and doctoral applicants must be enrolled in a U.S. accredited institution located in the U.S. during the fellowship year.
Postdoctoral applicants must provide proof of their doctorate degree; hold a doctorate classified as a research degree (e.g., Ph.D., Ed.D., D.B.A., D.M.) or an M.F.A. by November 15, 2021; and indicate where they will conduct their research.
However, click here for further details on the eligibility requirements.
How to apply for the AAUW International Fellowships program
Moreover, follow the step-by-step guidelines below to apply for the AAUW Fellowships in the USA for Women.
Firstly, all applications for the International Fellowships are done online. You can start the application process using this link, or by clicking the "Apply Now" link found on the AAUW website.
Secondly, you will need to create an account for your application. Then, complete the required component including the documentation requirements.
However, you will need to prepare the following documents for the application process. They include:

Three recommendations from professors or professional colleagues that are well known to you, on basis of work or academic background.
Proof of highest degree: Upload transcripts from the college or university where the highest degree (not a certificate) was obtained. The highest degree must be at least a bachelor's degree
Proof of current enrollment (currently enrolled applicants only): Upload transcripts/lists of courses/institution letters from the college or university in which the applicant is currently enrolled, if she is enrolled.
Proof of a doctorate or M.F.A. degree (postdoctoral applicants only)
English proficiency test scores: either TOEFL or IELTS test scores that must valid
Click here for more details on the application procedures
Additional Notes
In addition to the eligibility requirements, applicants can apply for the fellowship for any year of their program but must be conducting a full year of study or research. International Fellowships do not provide funding for a partial year of study or research. Programs ending prior to April of the fellowship year are not eligible.
Moreover, International Fellowships are awarded on a competitive basis according to funds available in a given fiscal year. The awards are based on the following criteria below:
Applicants residing in their home country at the time of application, from developing/emerging countries, or from an underrepresented group in any region, will receive special consideration.
Position on return to home country.
Academic and/or professional qualifications.
Applicant's commitment to the advancement of women and girls in her home country.
Proposed time schedule.
Quality and feasibility of the proposed plan of study or research.
Demonstrated evidence of prior community and/or civic service in the home country.
Applicant's country's need for the specialized knowledge or skill.
Financial need.
Motivation for graduate study or research.
Moreover, ensure to review the full eligibility requirements by visiting the official website, in which you can also access the online application.
Official Website
In conclusion, please refer to the official website of the scholarship provider using the link below for more details on the requirements and application instructions on the International Fellowship. As information may change or get an update at any moment without notice.