Casualty Insurance: What Does it Mean?
Casualty insurance is a type of insurance policy that provides liability coverage to protect you in case you are legally responsible for another person's property damage or injuries, such as from a car accident or home accident. It pays the person who gets injured while on property and decides to sue you or make claims against you for issues covered in your policy.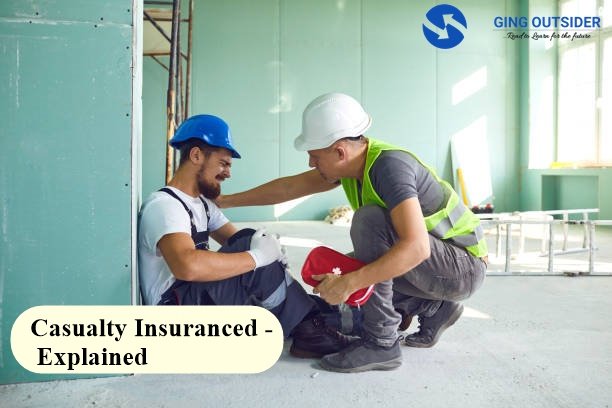 Construction worker accident with a construction worker. First aid for injury at work.
Moreover, casualty insurance and property insurance are usually combined together into a policy known as property and casualty insurance, otherwise known as P&C insurance. They protect you and your property, including its contents. However, in this article, we take a thorough and comprehensive look at what casualty insurance means, how it works, its importance, and other important information in regards to it.
Meaning of Casualty Insurance
Casualty insurance is a broad category for individual insurances usually written as a separate policy, providing coverage for individuals, employers, businesses against the loss or property, damage, or other liabilities. Forms of insurance usually included in it are automobile, liability, and theft insurance.
Moreover, casualty insurance protects you against liability losses, which are losses that occur as a result of the insured being legally responsible for other's injuries or property damage. For instance, when you damage a neighbor's fence with your car, your insurance policy might pay to repair it. Which totally depends on the coverage specifics in your policy.
Furthermore, casualty insurance is usually included in both homeowners and automobile insurance. Where it covers your liability losses to others, just like it did in the example above on how it works as part of a car insurance. However, this brings us back to P&C insurance or property and casualty insurance which is when the both are bundled together to form a single policy.
However, the P&C insurance is an umbrella term that includes different forms of general insurance policies. While the property part covers damages to your own property and its contents, the casualty part protects you from the costs of injuries and damages to other people and their property. Therefore, the P&C insurance typically includes two types of coverage which are property protection and liability coverage.
Read Also: Property Insurance (Definition) and How it Works
How Does it Work?
However, casualty insurance is typically liability coverage of an individual or organization for negligent acts that results in harm to others. Moreover, just like we mentioned earlier this type of insurance is usually included in your insurance policy, mostly auto and homeowners insurance. In your policy, it is usually found under coverages for others when you are liable.
For instance, in homeowners policy it may show up as personal liability, and medical payments to others. While in auto policy, it shows up under bodily injury liability and property damage liability. Small business owners also need a casualty insurance to protect the company from liabilities in the situation that a worker is hurt while on company property.
However, the business owner will have to consider a different type of casualty insurance and the type essential for businesses is workers' compensation. This type of policy protects a company from liabilities that occur when a worker gets an injury on the company property while on a job. Workers' compensation is typically financed by the employers' contributions. It usually includes medical benefits, temporary or permanent disability benefits.
Moreover, aside from workers' compensation business owners also need to have casualty insurance coverage. This is just in case the company produces something that ends up harming consumers.
Guidelines on Purchasing Casualty Insurance
However, you will need to consider the following factors while purchasing a casualty insurance policy:
1. Insurance Company:
You will have to consider the reputation and financial health of the insurance company you are buying your policy from. Ensure that the insurer is not at risk of going bankrupt as insurance is a huge long-term financial commitment. So you will have to find out they will be able to payout claims in the future as promised.
2. Insurance Quotes:
However, insurance policy varies price depending on so many factors, therefore it is important you compare insurance quotes before purchasing. The best strategy is to get price quotes from several insurance companies. You can do this using the following means:
Online: You can get free insurance quotes online via the company's website by submitting certain basic information about yourself, policy type, coverage levels etc.
Insurance agent: An agent should be able to give free insurance quotes from multiple companies. The insurance agent should also be able to enlighten you on the coverage types you will need and also about the insurance companies in your area.
Life Insurance: Meaning, Types, How it Works and Best Life Insurance Companies
3. How Your Insurance Policy Works:
Another factor to consider while purchasing an insurance policy is to ensure that you know how your policy works. Ensure that you read the policy terms carefully and check the policy inclusion and limitations as well.
Importance of Casualty Insurance
However, just like we mentioned earlier, casualty insurance is mainly liability coverage. Moreover, the main purpose of every insurance policy is to make you financially whole after an unexpected loss. Therefore, having enough liability coverage financially protects you from paying out of pocket to cover costly liability loss such as legal fees, lawsuits, medical expenses of other people injured while on your property etc.
Most times, in cases of huge and costly claims, your liability coverage can save from getting bankrupt by paying settlements or court judgements against you. Therefore, it is important to have adequate liability coverage to cover what you could lose in a lawsuit. Insurers only pay up to your liability limits and doesn't exceed. You can add extra liability coverage to your policy by purchasing umbrella insurance. You can purchase it as a separate policy and it can help cover liability claims in excess.
Additional Notes
In conclusion, having a casualty insurance in your policy means that it includes liability coverage to help protect you if you are legally responsible for an accident that causes injuries to another person or damages another person's property. Casualty insurance is mostly included in your policy meaning that you pay for it when your insurance bill is due.