Complete Guide on How to Study Abroad in 2023
Is studying abroad on your mind, but you're not sure what it involves? Knowing you want to study abroad is the easy part. But figuring out how to study abroad can be a daunting process. The whole process might seem a bit difficult and can also be trickier—or at least feel that way.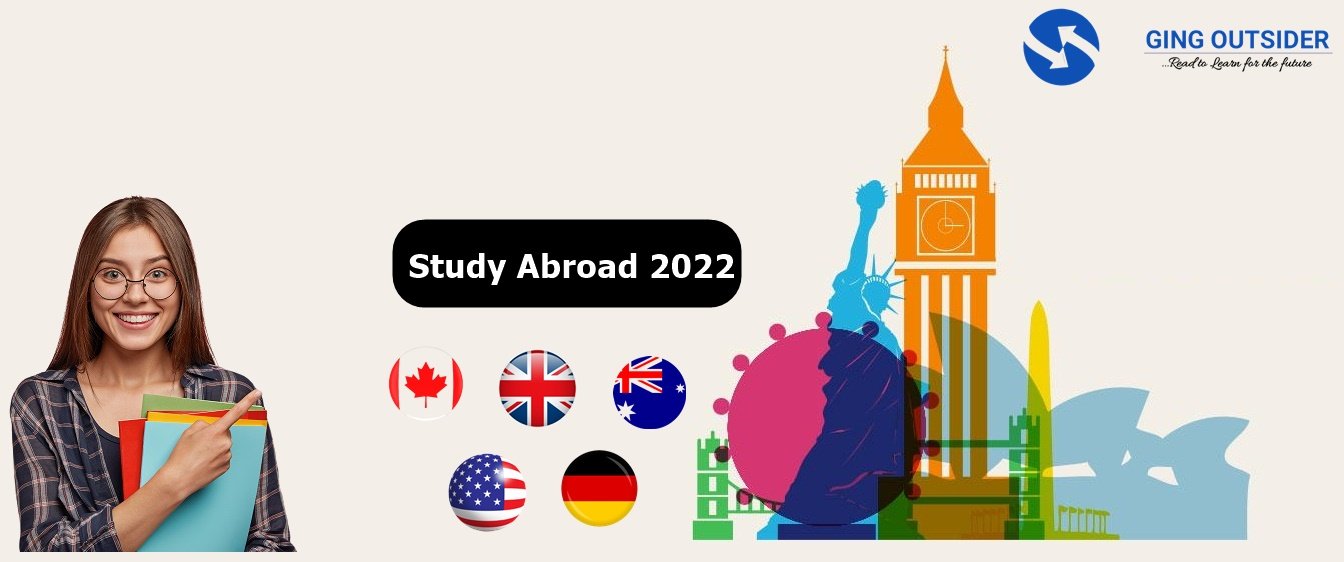 However, if you know each step that needs to be taken and how to prepare everything you need. You will find yourself studying for an undergraduate or postgraduate degree abroad in no time.
In this article, we have provided a comprehensive and easy-to-follow guide on how to study abroad. Here you will find information on where to study, how to apply, entry requirements, getting a student visa, tuition fees, funding, finding study abroad scholarships, and much more.
A Guide to How to Study Abroad
Taking your studies abroad opens numerous thrilling possibilities. You will earn a top-quality education, learn new cultures, boost your career prospects, and more. Applying to an overseas university is relatively straightforward if you do your research, prepare all the applicable documents, and work logically through the admissions procedure.
Moreover, studying abroad may be one of the most beneficial experiences for a university scholar. By studying abroad, students can learn in a foreign country and take in the charm and culture of new land. However, that doesn't imply it's a straightforward experience. Most students with dreams of studying abroad have no idea where (or how) to commence their search for study abroad programs.
Furthermore, if you want to know how to study abroad, it's as simple as answering questions such as where you want to study abroad, how you will save money for studying abroad, etc. However, we are here for you regarding everything you need to help you make your study abroad dreams a study abroad reality.
Why Study Abroad?
Studying abroad may be one of the most beneficial experiences for a university or college student. There are so many reasons why it can be a life-changing experience. However, if you still need convincing why you should study abroad, here's a list of the top 10 reasons to study abroad that you need to consider:
1. Develop your language skills
One of the major draws if you're planning on studying abroad is the opportunity to study a foreign language. Learning a new language can be a thrilling experience, especially if it's been years since you've learned one in school. However, for most global students, studying abroad is a chance to acquire language skills, either through studying in a second language or practicing the language spoken locally. Multilingual graduates are very intriguing to employers. Moreover, language skills obtained while studying abroad will always benefit the student and their home country in the short and long term.
2. Become truly independent
Studying and living abroad requires you to be independent without the safety of your home comforts. The experience of university is, for most new students, a steep learning curve in attaining independence. But studying abroad takes that a step further, challenging students to develop as individuals. You have to cope on your own when you are studying abroad. You have to be able to look after yourself and sort out your affairs.
3. Make friends from around the world
This is one of the most significant benefits of studying abroad. Your exposure to many different types of people will help you develop your people skills and give you a more in-depth knowledge of others, particularly those from different cultures. Moreover, the university you choose for your international studies will likely have a large community of students from the local area and all around the globe.
This lets you get to know and create lasting relationships with fellow students. Although you may not love every person you meet, chances are that you'll meet at least one lifelong friend. Furthermore, take full advantage of this opportunity. You could graduate having established lasting friendships with people from many different countries – great for future trips and a reasonable basis for an international professional network.
4. Experience a new culture
It doesn't matter if you're traveling across ten time zones or just the following country over. Nothing beats the immersive international experience you get while studying abroad. The best way to learn about another culture is by immersing yourself in it; you can only do that by living in a country. Studying abroad exposes you to new people, a new way of life, and a new culture. Moreover, society today is more global than ever, and these experiences will expose you to various types of people that will make you a better employee, student, and person overall.
Other reasons are as follows:
develop personally and professionally
improve your career prospects
discover amazing places
You'll broaden your education and more.
How to Study Abroad in 2022
Furthermore, you should follow the steps below, and you will be studying at your dream university in no time.
Study Abroad Applications
Firstly, you will need to decide on the subject you would like to study and the country you want to live in. After that, you can then begin applying to universities. Moreover, each country and university you apply to may have a different procedure. For instance, all university applications are submitted through a centralized application service in countries like the UK and Australia. While in other nations, you must apply directly to the university.
Moreover, as an international student, you may need to complete a two-stage application procedure. You'll first apply for a place at the university before submitting a more specific course application. However, full application details can usually be found on the university's website. Therefore, if you have any inquiries, do not hesitate to contact the university's admissions office.
Then, once you've been offered a place at the university and have received a letter of acceptance, it's time to begin the visa application process. However, securing a visa can take months, so it's reasonable to give yourself as much time as possible.
Choosing a Study Program
Moreover, here's a guide to help you choose what to study abroad best matches your eligibility and aspirations.
Application for a bachelor's program abroad
To earn or be considered for a place in a bachelor's program, you will need to show that you have an interest in the subject you want to pursue and, likewise, the academic capability for the course you're applying for.
Entry criteria between universities and countries vary, so it's always best to familiarize yourself with these first. Therefore, to stand the best chance of being offered a place, you must meet the grade conditions of your preferred institution and perhaps provide evidence of your language proficiency.
Moreover, applying to numerous universities can improve your possibilities of success. However, you may need to pay an application fee for each program you apply for. Furthermore, you will also be asked to provide some supporting documents. The files required will depend on your university. However, here's a breakdown of what you might need:
Secondary education transcripts and qualifications

Letter of recommendation/ references

Personal statement/ essay

English language certification

Admissions test results

Passport / ID photos
Application for a master's program abroad
Generally, master's applications require lots of information about your educational records, primarily your undergraduate qualifications. Therefore, you might need to submit the following documents as part of your application:
University results with module/ class breakdown

Letter of recommendation/ references

Personal statement/ essay

English language certification

Curriculum Vitae

Passport/ ID photos
However, to secure a place on most taught or research master's courses, you will need a bachelor's degree that meets your university's entry requirements. Most universities prefer undergraduate qualifications in related subjects, but this isn't always the case. Moreover, you may be exempt from providing a language proficiency test score if you have studied an English-taught program at the undergraduate level.
Application for a Ph.D. abroad
Furthermore, to earn admission to a Ph.D. program, you must prove your commitment to academia or a particular profession. However, you won't always need a master's degree to study for a Ph.D., but you will need sufficient subject knowledge.
Moreover, make sure to find and contact a university professor whose areas of expertise match your research interests. Explain the topics you'd like to research and see if they'd be happy to supervise your work if you gain a university place. If they agree, you can use this to strengthen your application. However, you may need to provide the following as part of your Ph.D. application:
University results with a class breakdown.

Letter of recommendation

Personal statement

English language test certification

Curriculum Vitae

Photo ID

Research proposal
Top Tips on How to Study Abroad
Here are hints and tips to make sure you have the best possible chance of submitting a successful application:
Start early: Starting the application procedure early gives you plenty of time to organize the rest of your study abroad experience, such as accommodation, part-time work, and insurance.
Remember the application deadline: Write it in your calendar, set a reminder on your phone, and don't forget about it.
Ask for help: You don't need to go through the application process alone. Many support teams are always on-hand to answer your questions and offer guidance.
Most Frequently Asked Questions Regarding How to Study Abroad
Moreover, you can browse the following questions below to discover the answers to the secrets of how to study abroad:
Where in the world should I study?
Deciding where in the world you wish to study is not always an easy task. Likewise your interests, you should consider practicalities such as the costs of studying in that country (tuition and living costs), your graduate career prospects (is there a good job market?), and your overall security and welfare.
Moreover, it would help if you also considered the lifestyle you wish to have during your studies. Do you want to live in a big city or a small university town? Do you want arts and culture on your doorstep or world-class sporting facilities? However, some of the most popular destinations; are Australia, the United States, Canada, the United Kingdom, and Germany. Furthermore, you can check out these all-country guides to give yourself the best chance of loving your international experience.
How much does it cost to study abroad?
Furthermore, to work out the cost of studying abroad, you need to consider the average tuition fees for international students in your chosen country and the cost of living. Moreover, the average tuition fees for international students studying in most of the top study destinations are as follows:
United Kingdom: Tuition fees start at £10,000 (US$14,200) a year, with an extra £12,180 (US$17,300) each year required to cover living costs (with more needed if you study in London).
United States: The average annual tuition fee is US$25,620 at public universities and $34,740 at private universities, with an extra recommended budget of at least $10,800 to cover your living costs. With these annual figures in mind, remember that undergraduate programs in the United States tend to last four years.
To sum up, note that there are no tuition fees at all in some countries. Notable examples include Germany and Norway.