2023/24 York Science Scholars Award to Study in Canada
Another fantastic scholarship is on offer to international to study abroad in 2023. This is an excellent opportunity for you if you've been dreaming of studying in Canada on a scholarship. Applications for the York Science Scholars Award are currently open to all eligible international students across the globe seeking to pursue their academic studies at York University Canada.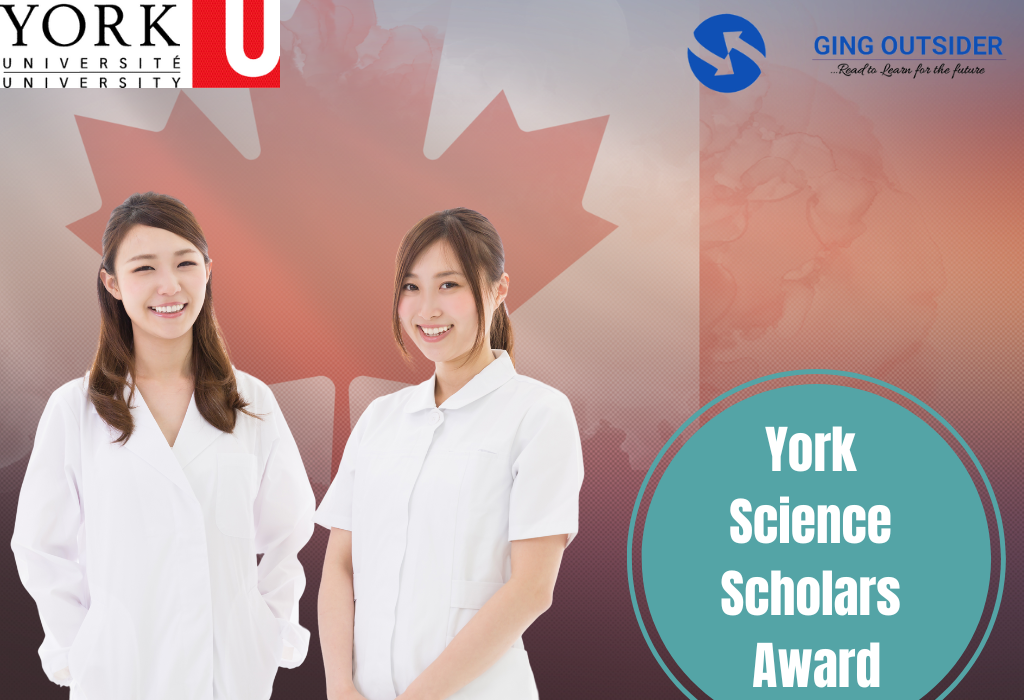 The Faculty of Science at York University is eagerly awaiting applications for its esteemed York Science Scholars Award (YSSA) program. The Science Scholars program fosters the intellectual and professional growth of high-achieving, driven science students joining the Faculty in line with the mission of educating global thinkers to advance knowledge and human progress. However, continue reading to learn more about this exciting scholarship program.
Meanwhile, this article will provide detailed information on everything you need to know about the York Science Scholars Award. From the eligibility requirements to the scholarship benefits, how to apply, and any other important information you need to know about the scholarship program.
About the York Science Scholars Award (YSSA)
The York Science Scholars Award is an initiative of the Faculty of Science of York University in Canada to attract great brains into the study of science. In keeping with the vision of preparing global thinkers to advance knowledge and human progress, the Science Scholars program nurtures the intellectual and career development of high-achieving, passionate science students entering the Faculty.
The York Science Scholars program provides up to 25 first-year entering students with awards worth $10,000 each. This Faculty of Science award is considered separately and in addition to any other York University or Faculty of Science admissions awards and scholarships.
The York Science Scholars Award of $10,000 is provided in two parts:
$5,000 as an entrance scholarship
$5,000 as a guaranteed summer research position following the first year of study
About the University
York University, also known as YorkU or simply YU, is a public research university in Toronto, Ontario, Canada. Canada's fourth-largest university has approximately 55,700 students, 7,000 faculty and staff, and over 325,000 alumni worldwide.
York is a leading international teaching and research university and a driving force for positive change. Empowered by a welcoming and diverse community with a uniquely global perspective, York University prepares students for their long-term careers and personal success.
Home to one of the largest and most diverse student bodies in Canada, York has 59,000 students from 178 countries, 325,000+ alumni, and leading professors who are working with 300+ university, industry, and NGO partners to tackle pressing issues. Recognized as a global leader for two consecutive years in the new Times Higher Education Impact Rankings and number one in global joint research publications in Ontario, York is positioned to take on the challenges that matter most.
Scholarship Summary
Furthermore, here's an overview of the York Science Scholars Award.
Scholarship Sponsor(s):
York University, Canada
Host Institution(s):
York University, Canada
Scholarship Type:
Partial funding
Study Level:
Undergraduates
Field(s) of Study:
Bachelor's degrees in any subject offered at York University
Scholarship Value:
Up to $10,000. See the scholarship benefits section below for details.
Number of Awards:
25 scholarships to be awarded
Eligbible Nationalities:
Domestic and international students
Deadline:
1st March 2023
Scholarship Benefits
Moreover, York University will provide the scholarship recipients with the following inclusions:
The York Science Scholars Award program combines:
a $5,000 entrance scholarship
one-on-one mentorship from outstanding faculty members
a guaranteed $5,000 paid summer research position for the summer following a student's first year, and
leading-edge research facilities.
York Science Scholar winners are given the priceless opportunity to earn tuition in a guaranteed summer position during their first summer while participating in advanced scientific exploration.
Eligibility Requirements for the York Science Scholars Award
Furthermore, applicants must meet the following criteria below to be eligible to apply for this scholarship program.
All Canadian and International students who have applied for entrance to the York University Faculty of Science for full-time study starting in Fall 2023 are eligible to apply for this program. Newly enrolled first-year Faculty of Science students are not eligible for this award.
However, other criteria are categorized thus:
High academic achievement: Although we consider the YSSA applications holistically, competitive applications tend to have a minimum average of A- (80%, or its equivalent) and higher.
Demonstrated passion for science and community service, demonstrated leadership skills, and a desire to make a difference in their communities.
Well-rounded candidates who demonstrate involvement beyond academics, for example, in community service, achievement in sports, the arts, or hobbies.
English Language Scores: For international students requiring an English language test for admission to York University, competitive English test scores are:

YELT: band 1
TOEFL: iBT 100
IELTS: 7.5
How to Apply
Meanwhile, interested candidates can follow the step-by-step guide below to apply for the York Science Scholars Award.
To begin with, please submit YSSA applications directly to the Faculty of Science digitally or in hard copy by no later than March 1, 2023, at 11:59 PM.
Complete the application form: You can fill out the application form through the online portal.
Write your personal statements: Please read the guidelines carefully and choose two topics about which you are the most passionate.
Complete other steps: Complete all other steps as stated in the official application portal.
Official Website
In conclusion, please refer to the official website of the scholarship provider using the link below for more detailed information on the eligibility requirements and application instructions for the York Science Scholars Award.