Commercial Real Estate (Definition), Types, and How to Invest in Commercial Real Estate
Just like the name suggests, commercial real estate (CRE) is a property that is used solely for business purposes. However, commercial real estate is owned by an investor and earns income from the rent paid by each business that operates from the property.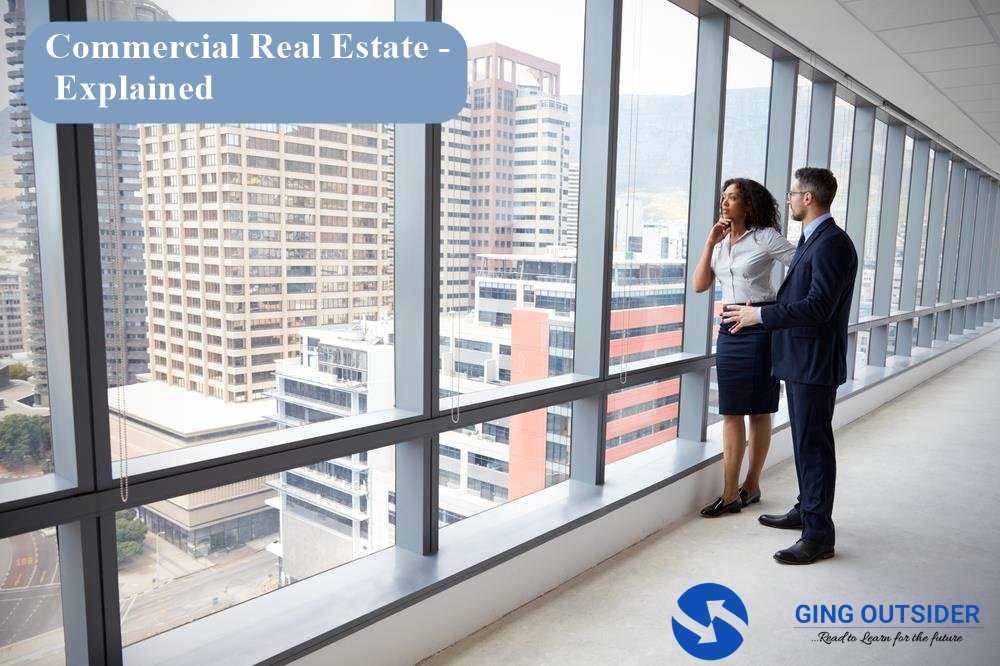 Moreover, this category of real estate has become the most popular when it comes to investment. This is because of its profitability and growth potential. However, in this article, we provide information in detail on the definition of commercial real estate, its various categories, and how to invest in real estate.
Definition of Commercial Real Estate
Commercial real estate (CRE), often called commercial property, investment property, or income property, is a property that is specifically used for business activities. CRE refers to property (buildings or land) that provides workspace or is used for business purposes, with the intention of generating a profit from rental income or capital gains.
Examples of commercial real estate include office buildings, hotels, and resorts, shopping malls, medical centers, restaurants, retail stores. Also, apartment buildings like multifamily housing are categorized as commercial real estate because they are used to generate rental income.
Read Also: Real Estate: Meaning, Types and How Real Estate Works
Types or Categories of Commercial Real Estate
However, here are the five primary types or categories of commercial real estate:
Multifamily:
This category of CRE is in between residential and commercial real estate just like we mentioned in the definition of commercial property or real estate. However, it involves apartment buildings larger than a fourplex, which is the reason it is considered multifamily because they have multiple units in one property.
Moreover, this category of commercial real property can primarily be used for residency. It is generally used for investment purposes. Examples include apartment complexes (duplex, triplex, quadplex), high-rise apartment buildings, etc.
Office Buildings:
However, this category of commercial real estate involves multi-tenancy just like the multifamily, based on the style of the building and its location. Examples of properties under office buildings include single-tenant properties, small professional office buildings, downtown skyscrapers, etc.
Moreover, the office building is further classified into class A, class B, or Class C depending on their quality, location, and age.
Class A is considered the best building in terms of location, construction (quality of infrastructure), and age.
The class B properties, on the other hand, are older and are not usually in a desirable location that may be considered competitive although they might have a high-quality infrastructure in terms of construction.
Then, the class C properties are the oldest, and usually in an unfavorable location. They are mostly in need of maintenance.
Check Also: Disability Insurance: Meaning, Types and How Disability Insurance Works
Retail Commercial Real Estate:
However, retail commercial real estate is used for any business that sells its products and services directly to consumers. This category includes single-tenant retail buildings, neighborhood shopping centers, power centers, regional malls, community retail centers, etc.
Industrial:
This category of commercial real estate properties also varies in size depending on their specific use. Examples of industrial CRE properties include bulk warehouse, heavy manufacturing, flex warehouse, light assembly, etc.
Miscellaneous:
However, this category includes any other non-residential properties that are not classified in the aforementioned categories. They include hotels, healthcare (medical centers, hospitals), and much more.
Commercial Real Estate Investment
Investing in commercial real estate can be very lucrative but it usually requires more experience and larger amounts of capital from investors than the other types of real estate does.
Moreover, commercial real estate investment involves putting money (investment) in purchasing business buildings or non-residential properties for business-related purposes. CRE investments generate money through profits produced from the operation of the building, rental income paid by tenants, and appreciation when there is an increase in the property's value.
However, there are two ways to invest in commercial real estate, investors can either use direct or indirect investments:
Direct Investment:
Investors can invest directly in CRE by becoming the owners of the commercial property. However, investors going for direct investment in commercial real estate must have experience in the industry works as CRE investments require expertise and a considerable amount of capital, and also more time than many other investors have.
Indirect Investment:
On the other hand, in indirect CRE investment the investor purchases stocks and shares in trust companies, Real Estate Investment Trusts (REITs), exchange-traded funds (ETFs), and other property companies that invest in commercial property-related stocks, or by investing in companies that provide for the commercial real estate market like banks and realtors (real estate agents).
Moreover, in indirect commercial property investment, the investors do not have to put a significant amount of capital to buy a large or expensive property asset as it does in direct property investment.
Read Also: How to Earn Money From YouTube: 5 Effective Ways
Benefits and Risks of Commercial Real Estate
However, investing in commercial real estate comes with its own benefits and risks just like every other investment does. They include:
Benefits:
Increased Revenue: The best reason to invest in commercial property over other real estate is because of the income potential. Investors can generate a significant amount of revenue from the rental income of each unit on the commercial property.
Triple net leases: Commercial property investors can make effective use of triple net lease, whereby the property owner do not have to pay expenses on the property. Expenses such as real estate taxes, building insurance, and maintenance will be handled by the lessee.
Risks:
Illiquid asset: Generally, real estate is known to be among the class of more illiquid assets. Therefore, that makes commercial real estate an illiquid investment, in the sense that it can't be quickly and simply converted to cash while it retains its market value.
Fluctuating interest rates
More capital is required to invest directly
Requires professional help
Greater regulation
Check Also: How to Start an Online Business: 5 Effective Ways For Beginners
Top Commercial Real Estate Companies
However, commercial real estate brokerage companies offer services like commercial market insights, expertise, tools, and resources for investors. They provide assistance to clients with buying and selling and also renting commercial properties according to their preferences.
Here are some of the top commercial real estate companies, both public and private firms:
CBRE
RE/MAX Commercial
CENTURY 21 Signature Real Estate
Additional Notes
In addition to CRE investment, both directly and indirectly investing in commercial property requires expertise, good timing and as well as luck, and a considerable amount of capital.
However, here are things to consider before getting started:
Set clear goals
Know the market areas
Understand the commercial market cycles
Always have a contingency plan and capital reserve fund
Be patient and prepared for setbacks and extended timelines.