Emile Boutmy Scholarships for Non-EU Students at Science Po
Study abroad in 2023! Here's another outstanding scholarship on offer to international students who wish to further their studies abroad. This is an excellent opportunity for you if you've been dreaming of studying in France on a scholarship. Applications for the Emile Boutmy Scholarships are currently open to international students to pursue their undergraduate and postgraduate studies at Sciences Po.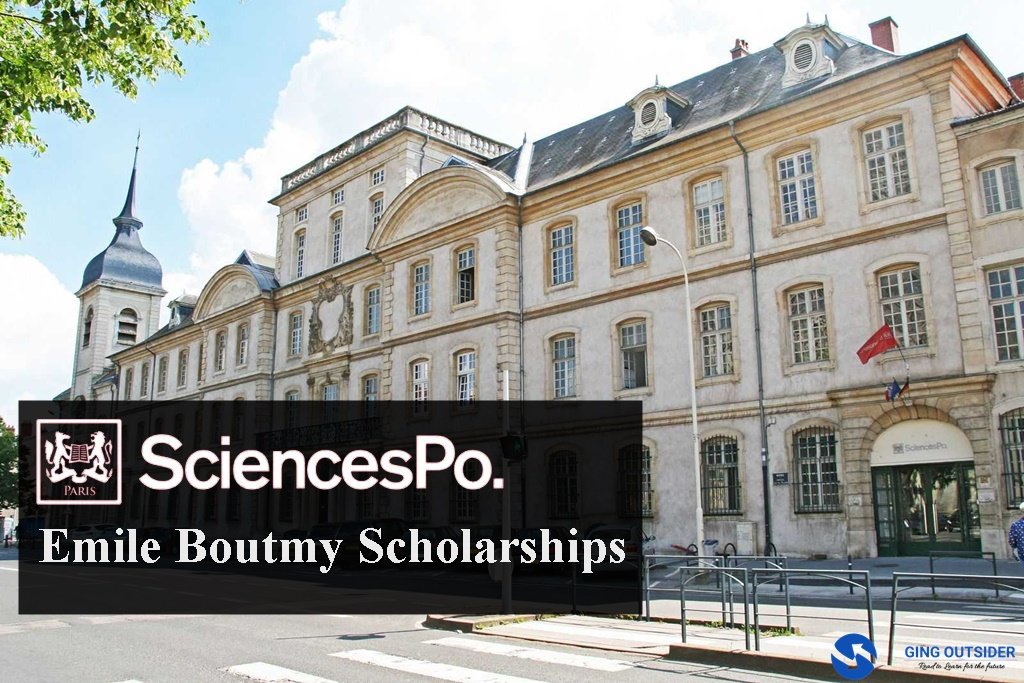 Entries are invited from international students from a non-European Union state for an undergraduate and master's scholarship program at Sciences Po, a foremost European institution of higher learning. However, continue reading to learn more about this exciting scholarship program.
Meanwhile, this article will provide detailed information on the eligibility requirements and application instructions for the Emile Boutmy Scholarships at Sciences Po. From the scholarship benefits to the eligibility requirements, how to apply, and any other important information you need to know about the scholarship program.
About Emile Boutmy Scholarships at Sciences Po
Sciences Po created the Emile Boutmy Scholarships after the founder of Sciences Po to attract the best international students from outside of the European Union who are first-time applicants and have been admitted to an Undergraduate or Master's program.
The scholarship is awarded to top students whose profiles match the admissions priorities of Sciences Po and individual course requirements. Moreover, the scholarship is awarded on merit and according to the type of profile sought for the program.
About the University
The Paris Institute of Political Studies, commonly known as Sciences Po, is a public research university with the status of grande école and grand établissement, located in Paris, France, with additional campuses in Dijon, Le Havre, Menton, Nancy, Poitiers, and Reims. Sciences Po offers courses and conducts research in political science, history, economics, law, and sociology.
Sciences Po is France's leading university in the social sciences and has seven multicultural campuses in France. Founded in 1872, Sciences Po has educated decision-makers in public and private sectors for over 140 years. Half the students are recruited internationally and form an intercultural community representing 150 nationalities. Sciences Po offers programs from the undergraduate to the doctorate level.
Sciences Po is a research university. It contributes to knowledge and debate in five overarching disciplines: law, economics, history, political science, and sociology. More than 270 faculty members study public health, education, urban development, security, the environment, and democracy worldwide through ten research units and several cross-cutting and cross-cutting programs.
Moreover, in rankings based on English-speaking publications, in 2022, Sciences Po ranks 2nd globally for studying Politics in the QS World University Subjects Rankings. In contrast, it is ranked 62nd in social sciences by Times Higher Education. In QS Rankings and Times Higher Education, Sciences Po is globally ranked 242 and 401–500.
Scholarship Summary
Furthermore, here's an overview of the Emile Boutmy Scholarships.
Scholarship Sponsor(s):
Sciences Po
Host Institution(s):
Sciences Po University, Paris, France
Scholarship Type:
Full funding
Study Level:
Undergraduate and postgraduate (Master's) degrees
Field(s) of Studies:
Bachelor or Masters Programme offered at the University
Scholarship Value:
Up to €13,000
Number of Awards:
Not specified
Eligible Nationalities:
Non-EU international students
Deadline:
30th November 2022/ 22nd February 2023.
Scholarship Benefits
Moreover, Sciences Po will provide the Emile Boutmy Scholarships recipients with the following inclusions.
Undergraduate Level
The Emile Boutmy Undergraduate Programme can take different forms ranging from €3,600 to €13,190 for the three years of undergraduate study.
Masters Level
The Emile Boutmy Master's Programme is a tuition grant of €12,200 per year, which covers part of the tuition fees for the two years of the Master's degree program.
Eligibility Requirements for the Emile Boutmy Scholarships
Furthermore, applicants must meet the following criteria below to be eligible to apply for this scholarship program.
Applicants must be first-time applicants from a non-European Union state whose household does not file taxes within the European Union.
Must have been admitted into an eligible undergraduate or master's degree program at Sciences Po.
Must demonstrate excellent academic credentials with proven leadership abilities.
Applicants must have obtained relevant bachelor's degrees in a recognized institution of higher learning if applying for a master's scholarship.
Applicants for the undergraduate scholarship must have obtained relevant certificates required for admission into Sciences Po.
How to Apply
Meanwhile, interested applicants can follow the step-by-step guide below to apply for the Sciences Po Emile Boutmy Scholarships.
Interested and qualified applicants for the undergraduate and master's scholarships must indicate that they are applying to the Emile Boutmy scholarship in the "Financial information" section of their Sciences Po application.
Applicants are to note that they may be asked to provide proof of income and documents explaining their family situation (e.g., an income tax return for both parents, payslips, divorce certificate, unemployment benefits, documents related to alimony, child support or retirement pensions, death certificate…). Applicants must also attach, if applicable, their language test before the application deadline for the scholarship.
Official Website
In conclusion, please refer to the official website of the scholarship provider using the link below for more detailed information on the eligibility requirements for the scholarship program.