How to Get a Student Visa to Study Abroad
It's likely that you will require a visa to enter the nation where you will be studying if you are a student seeking to pursue your studies abroad. Your ambition of studying abroad will be dashed at the border if you lack the proper documentation. Everything you need to know about getting a student visa to study abroad is covered in this article.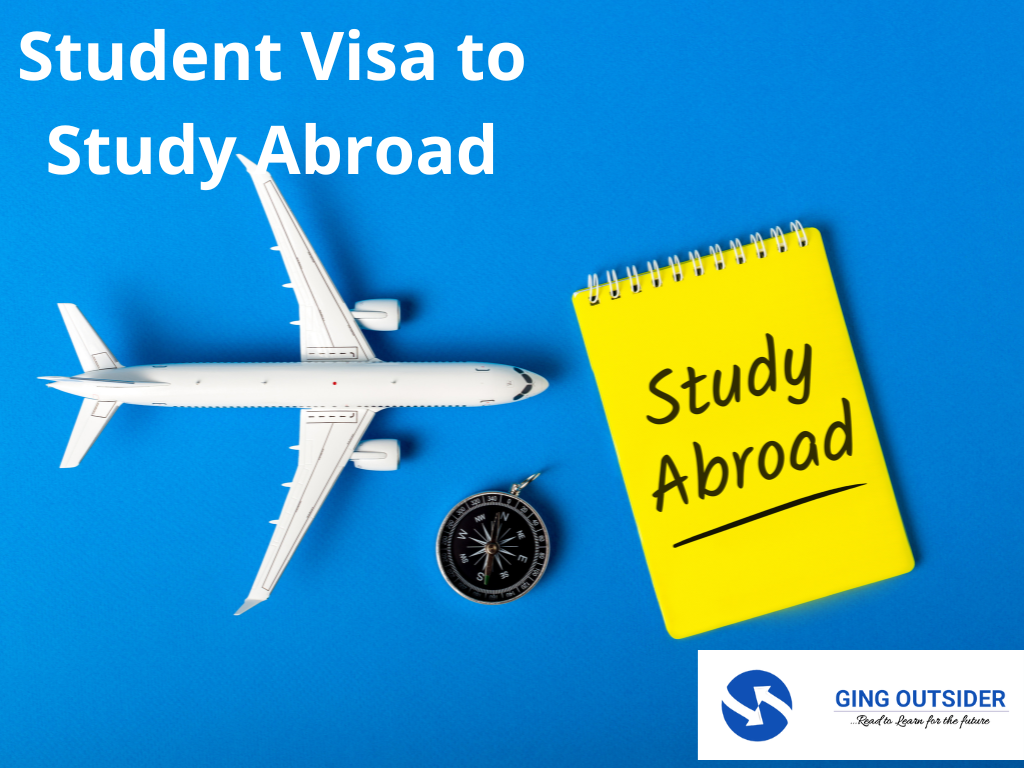 You can broaden your perspective, make lifelong friends around the world, and experience the world firsthand while you're in school if you study abroad. One of the main challenges students encounter when studying abroad is getting a student visa. Additionally, the process for applying for a visa differs depending on the nation and situation.
In the meantime, we'll go over all you need to know about study abroad student visas in great depth in this article. You can use this guide to learn how to apply for a student visa to study abroad, as well as the requirements and answers to some of the most frequently asked questions.
What is a Student Visa?
A visa is an official travel document that allows the holder to visit a foreign country lawfully. It is often stamped or pasted onto the holder's passport. There are other kinds of visas, though, and which one is needed will depend on why the holder is entering the nation. This includes a tourist visa for individuals planning a vacation, a student visa for individuals going abroad to further their studies, and so forth.
Furthermore, a student visa is a type of non-immigrant visa. Prospective students who want to finish their higher education overseas should apply for this visa. Only those with a confirmed place of study at an accredited institution for a specific amount of time are eligible to receive it. In some nations, including Canada, it is referred to as a study permit. You may be able to attend a recognized educational institution while holding this visa.
Additionally, each nation has its own immigration rules, which typically differ in terms of the paperwork requirements, the application procedure, and the deadlines. There are, however, some elements that apply to all student visas. Furthermore, careful planning is necessary for studying abroad. It is generally advisable for students to plan their entrance application procedure with university deadlines in mind. Prior to departing for your study destination, you should always submit a visa application. It's best to apply three to four months in advance to prevent any last-minute rush.
Students may need to apply for visas in person at an embassy and must often wait until they receive a confirmed offer from a university before they can do so. The number of applicants for a student visa at universities varies by nation. During these times, universities welcome new students.
What Type of Student Visa Do I Need to Study Abroad?
Visas are generally classified into two; immigrant and non-immigrant visas. The latter basically means that the holder does not intend to take up permanent residence in the country. Meanwhile, the exact name and type of visa you need will vary from country to country but a student or study visa is a non-immigrant. This means that your stay in the country is temporary for study.
However, non-immigrant student visas are usually categorized based on the duration of the program, and the type of program or student.
Student visa to study abroad based on the duration of the program
First off, several nations typically categorize student visas into Short-term Student Visas and Long-Term Student Visas depending on the length of the program the student intends to enroll in. In the meanwhile, short-term visas are frequently granted to students who intend to enroll in a 90-day maximum short-term language or diploma certificate course (3 months).
Long-term visas, on the other hand, are granted to students who intend to enroll in degree programs lasting longer than three months. Internships, brief certificate programs lasting six months, and other opportunities can be among them. This broad categorization is common throughout the nations of the European Union.
Student visas that are based on the type of program
However, regardless of the length of the course, some nations additionally classify student visas according to the type of student or program. The level of degree sought (undergraduate, graduate, or doctorate), an exchange student or a candidate for a vocational or diploma program are all examples of this.
However, these are more closely related to the program's length, i.e., the kind the applicant is applying for. If you're an exchange student, you could be gone for three months or three years. The category would continue to be determined by the kind of student and not the duration of the program.
Documents Required for Student Visa Application
Depending on the location where a student is enrolled for their study abroad program, certain criteria must be met in order to obtain a student visa. Every country has a distinct list of documents, depending on its immigration laws.
The list is generic, despite the fact that the precise requirements change in terms of actual phrases. In other words, there are a few standard prerequisites you need to be aware of. Here are the typical requirements for a study abroad visa. But make sure to ask about relevant rules and regulations from your host nation.
Documents that prove your financial situation or any financial support you will have during your studies. This can be in form of Loan approval letters, Scholarship letters, Bank statements, etc.
Proof of a place in a program from the university or college that you are going to attend.
A valid passport (ensure it doesn't expire before your visa will)
Proof of a clean criminal record. This can be in form of a police statement
Valid health insurance
Payment receipts for universities
Educational documents such as transcripts, test scores, qualifications, or certificates from schools you have attended
How to Apply for a Student Visa to Study Abroad
You should begin preparing for the visa application process once you have determined the country you want to study in. However, just as we mentioned earlier, this will vary by country. Meanwhile, the general steps remain the same. They are as follows:
1. Apply to the university or enroll in the program or exchange
However, a letter of acceptance from your university is typically the first step in a student visa application. Students must start the visa application process as soon as they receive their admission letter.
2. Find out the specific requirements for the country, university, and program
You should get in touch with the institution or college as soon as possible to find out which visa you need to apply for and/or to request that they provide you the required paperwork for your application. You should be prepared to apply after your university or college has advised you of the proper visa you need to apply for and any papers that you need to submit.
Then, carefully go over these specifications and make sure you can fulfill them all before the deadline. In order to give yourself enough time to complete all the criteria, you should start this process at least six months before the study abroad semester begins.
3. Complete your student visa application
The application and document submission procedures vary slightly depending on the country. Applications can be submitted in some nations via mail, courier, in-person meeting at an embassy, or online. To find out, go to the embassy or consulate of the nation you'll be staying in, ask how to apply for a visa, or do some research online.
The more convenient option is to apply for a student visa online. By simply creating a student profile, candidates can apply for their student visas online. All of the forms must be completed accurately by the student and are available online. Candidates who wish to apply for a visa offline must download the necessary forms, fill them out, and then submit them to the appropriate authorities.
How Long Will a Student Visa be Valid?
A visa is granted for a set amount of time. Usually plus or minus a month or two for the duration of your program. In some cases, the visa's validity will be limited to a specific period of time (for instance, a year from the date it is issued). Pay particular attention to the visa's expiration date. You run the risk of being charged with a visa overstay if you don't.
If your student visa doesn't allow you to stay in the nation for the maximum amount of time and your study permit expires before you finish your program of study. Next, you must submit an application to renew your study permission (typically a working holiday or visitor visa). You should submit your application, nevertheless, at least 30 days before your existing permission expires. Candidates have the option of applying online or via mail. It's customary to leave the country and return in order to do this, however, it's not always necessary.
In conclusion, where you study will have no bearing on whether you extend your visa. It can be very easy in some nations and difficult in others. Additionally, your student visa may need to be renewed or extended outside of the nation.