Monash International Merit Scholarships 2023 for International Students
Here's a fantastic opportunity to study abroad. This is an excellent opportunity for you if you've been dreaming of studying in Australia on a scholarship. Applications for the Monash International Merit Scholarship are currently open to students from all countries wishing to enroll in undergraduate and postgraduate studies in Australia.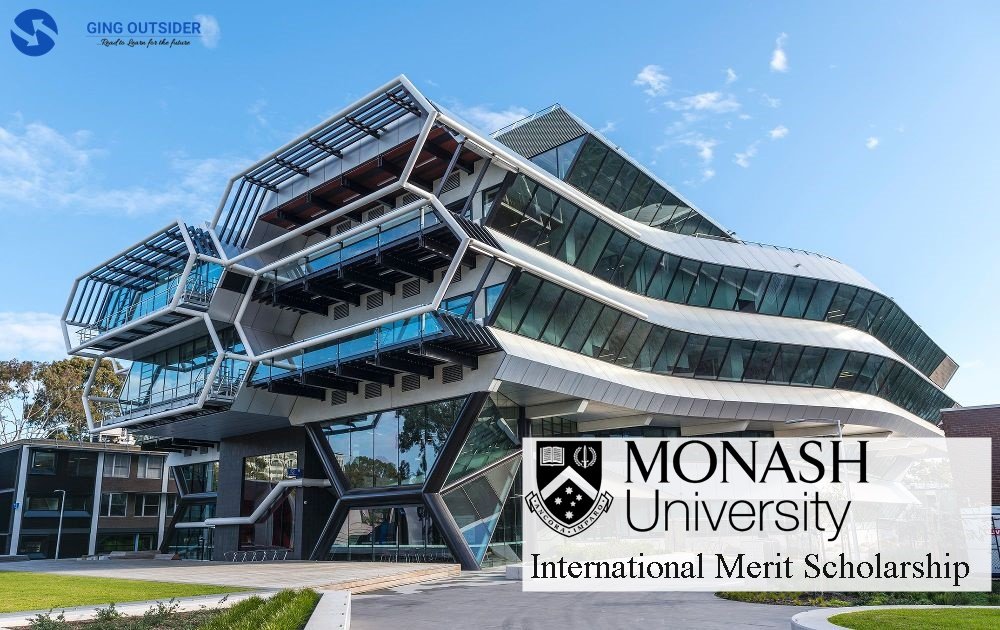 International students are always given priority when it comes to financial aid at Monash University in Australia. The merit scholarship will help you focus on your studies and achieve more as an international student by supporting your education. However, continue reading to learn more about this exciting scholarship program.
Meanwhile, this article will provide complete detailed information on everything you need to know about the Monash International Merit Scholarship. From the eligibility requirements to the scholarship benefits, how to apply, and any other important information you need to know about this scholarship program.
About the Monash International Merit Scholarship
Monash University invites students from all countries who have received offers from or are currently enrolled with the university to apply for the Monash International Merit Scholarship. As a scholarship recipient, you will receive $10,000 per annum for the duration of your degree.
Monash University is a public research university based in Melbourne, Victoria, Australia. The university was founded in 1958 and is the second oldest university in Victoria, Australia. It is also the largest university in Australia. It was named after the engineer, military leader, and public administrator Sir John Monash.
Moreover, Monash is a member of Australia's Group of Eight research universities, the ASAIHL, and the only Australian member of the M8 Alliance of Academic Health Centers, Universities, and National Academies. Also, Monash is one of the Australian universities to be ranked in the École des Mines de Paris (Mines ParisTech) ranking based on the number of alumni listed among CEOs in the 500 largest worldwide companies. Monash consistently ranks among the world's top 55–70 universities in the QS World University Rankings.
Students can choose from more than 6,000 courses across ten faculties: art, design and architecture, arts, business and economics, education, engineering, information technology, law, medicine, nursing and health sciences, pharmacy and pharmaceutical sciences, and science. In 2019, Monash enrolled over 55,000 undergraduate and over 25,000 graduate students. It has more applicants than any other university in the state of Victoria. The university has many campuses across Victoria and Australia and international campuses in Malaysia, Italy, India, and China. Monash University Library currently operates several libraries at all of its campuses, in Victoria and internationally, and houses over 3.2 million items.
Scholarship Summary
Furthermore, here's an overview of the Monash International Merit Scholarship.
Scholarship Sponsor(s):
Monash University, Australia.
Host Institution(s):
Monash University, Australia.
Scholarship Type:
Merit-based scholarships
Study Level:
Undergraduate and postgraduate
Field(s) of Study:
Undergraduate and postgraduate degrees in any subject offered at Monash University.
Scholarship Value:
See the scholarship benefits section below for details
Number of Awards:
Not specified
Eligible Nationalities:
International students of all nationalities are eligible to apply
Deadline:
15th November 2022
Scholarship Benefits
Moreover, Monash University will provide the Monash International Merit Scholarship recipients with the following inclusion.
$10,000 per annum (48 credit points of study) paid per year until the minimum number of points for your degree is completed.
Commencing undergraduate students will be invited to apply for a place in Monash Minds, a leadership program for first-year students.
Eligibility Requirements for the Monash International Merit Scholarship
Furthermore, applicants must meet the following criteria below to be eligible to apply for this scholarship program.
Intending to enroll full-time in an undergraduate or postgraduate (coursework) degree at a Monash campus in Australia.
For commencing students, you must have received a Monash offer.
You must have completed a minimum of two semesters in Australia for current students.
Current students enrolled in the Bachelor of Medicine and Bachelor of Surgery (Honours) course or the Medical Science and Doctor of Medicine (MD) course must have completed and obtained results for at least four semesters.
How to Apply
Meanwhile, follow the step-by-step guide below to apply for the Monash International Merit Scholarship.
To begin with, interested candidates for the scholarship program are to first apply for admission into an eligible course at Monash University. Then, you must submit a separate application form for this scholarship.
Also, remember that before applying for this scholarship, you must have received a complete Monash course offer with no conditions. Moreover, this scholarship can be deferred within the same calendar yar only. Also, do not submit supporting documentation with your application – this will not be considered.
Selection criteria for the Monash International Merit Scholarship
Based on academic achievement.
Current students must have achieved a minimum weighted average mark of 85
Students will also be assessed on their scholarship application statement (500 words) and their potential to be an ambassador for Monash University.
Preference will be given to commencing students.
Official Website
In conclusion, please refer to the official website of the scholarship provider using the link below for more detailed information on the eligibility requirements and application instructions for the Monash International Merit Scholarship.