Real Estate Agents: Description and How to Become a Real Estate Agent
Are thinking about becoming a real estate agent but don't know how to start or what it is all about? Don't worry anymore because whichever answers you are looking for, you will find it in this article. However, real estate agents assist their clients (either a buyer or the seller) through the transaction process of real estate.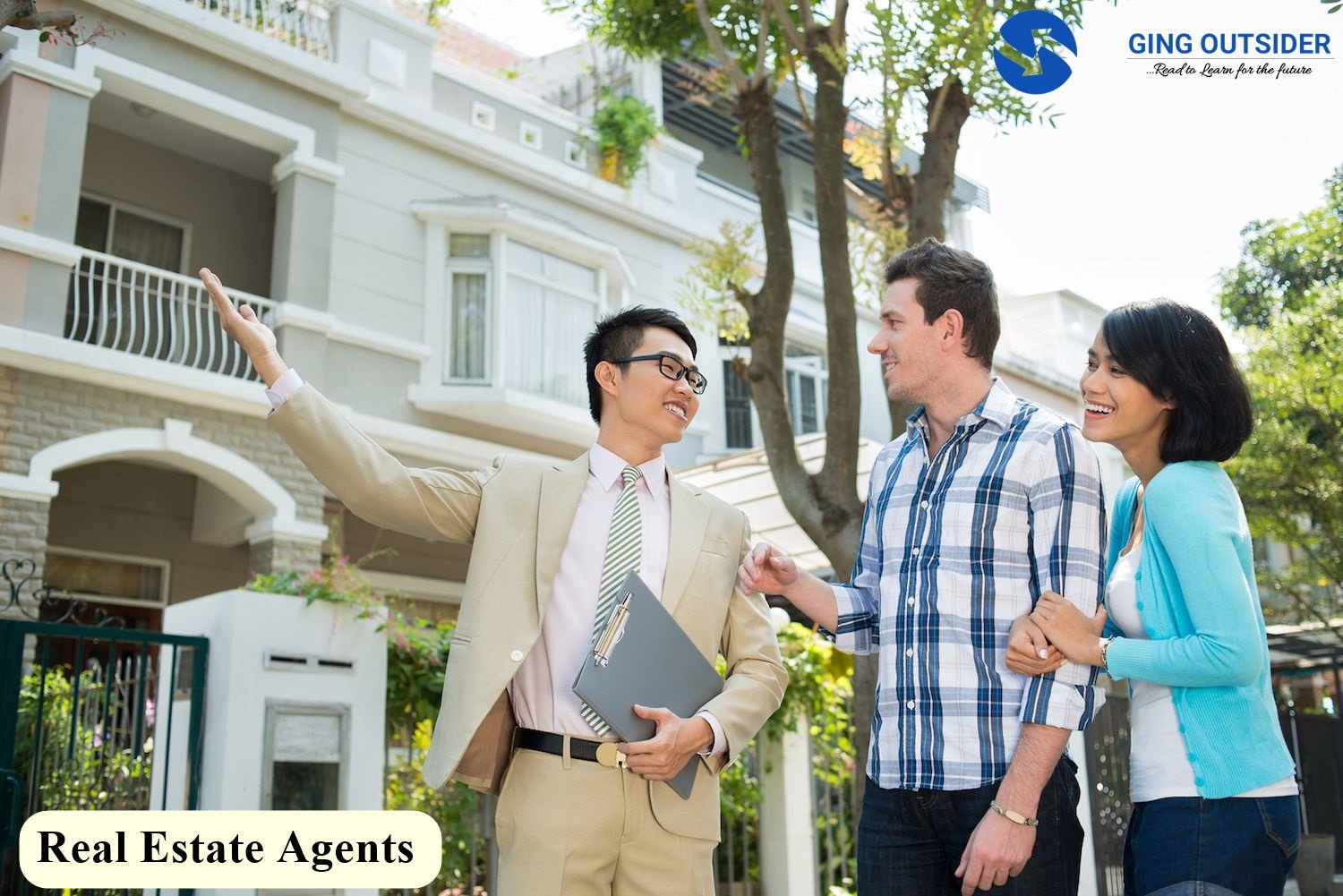 Moreover, in this article, we provide information in detail on the meaning of real estate agents, their job description, how they work, and how to become a real estate agent, plus other important information about real estate agents.
What is a Real Estate Agent?
A real estate agent is a professional licensed by the state whose job is to arrange, guide, and represent buyers or sellers through the process of a real estate transaction. An agent has expertise experience in listing a property, sale, and purchase, promoting it, or working with either a buyer or the seller to get a better deal offer.
However, a real estate agent may also specialize in the sale, purchase, or renting and management of any type of real estate ranging from commercial, residential, industrial real estate, or any other type of property in whatsoever location. Moreover, an agent's income may vary greatly depending on the location and value of the property, and also their ability to close a deal. This is because their income is on commission, which is usually a percentage of the real estate or property's purchase price.
Also, real estate agents, real estate brokers, and realtors all have the same job description but they also have different levels of qualification and licensing. A real estate agent is a salesman with a basic real estate license and qualification to assist clients to buy or sell the property. On the other hand, real estate brokers usually have additional training and education that gives them automatic qualifications to pass a higher-level licensing exam.
Moreover, real estate brokers typically own a brokerage firm which a client signs a contract with and not with an individual agent. Therefore, a real estate agent must either work for or associated with a real estate broker or a brokerage firm. While a realtor is a member of the National Association of Realtors (NAR), which is a trade association for professionals in the real estate industry such as property managers, appraisers, real estate agents, brokers, etc.
Job Description of Real Estate Agents
However, the responsibilities of a real estate agent change when working with either a buyer or a seller, but here is a general overview of the key roles and responsibilities of a real estate agent:
Agents guide and assist buyers and sellers in marketing and purchasing real estate for the best deal
They perform a total real estate market overview and search open listings to find properties that best suit the clients' needs and financial capabilities
Promote and market real estate or property to buyers
Estimate real property's value by performing a Comparative Market Analysis (CMA)
Prepare necessary paperwork such as contracts, leases, and other written documents
Network with potential clients and cooperate with attorneys, contractors, mortgage lenders, local businesses, and other real estate professionals
Sales promotion through advertisement and listing services
Middle-man in negotiation processes, handle matters like determining market conditions, pricing, mortgages, legal requirements, and related matters
Auctioning and exchanging properties, and also property management
How a Real Estate Agent Works
Just like we mentioned in the previous heading, a real estate agent's role differ depending on the side they represent in the transaction. However, the agent working with the seller are commonly called listing agents. They are contracted by the owners of real estate to assist in marketing it for sale or lease.
Moreover, the services provided by the listing agent to the seller include listing the property for sale to the public, keeping the client (seller) well-informed of the changes in the real estate industry and market conditions, promoting the property through social, paper ads, etc., negotiates price on behalf of the clients, prepares legal documentation for the transaction.
On the other hand, the buyer's agent search for real estate that suits the buyer's needs, specifications, and price range. They do these by looking at previous sales data on comparable properties to help buyers come up with an adequate offer. The agents also negotiate price and terms on behalf of the buyer, prepare a standard real estate purchase contract and assist the buyer in making an offer for the property.
Key Skills for Real Estate Agents
However, becoming a real estate agent requires attending a pre-license course and meeting other qualification criteria. But there are key skills an employer will be looking for in a real estate agent or salesperson. They include:
Working experience as a real estate agent or salesperson
Negotiation and marketing skills
Excellent communication skills and ability to maintain a positive relationship with clients and even colleagues
Ability to work independently
Neat presentation and goal-focused
Driver's license
Organizational skills as the agent may be dealing with more than one property at a time
Real estate agent's license
Real Estate Agent's Salary
However, due to the fact that agents are paid on commission which is the percentage of the property's price. Their earnings typically depend on the number of transactions they are able to complete for their clients. Therefore, the more the house sells for, the more money an agent makes.
How to Become a Real Estate Agent: 5 Simple Steps
However, there are specific requirements you must meet up with in order to become a real estate agent. Although these requirements may vary by state, here is a general guide on how to become a real estate agent:
1. Research and Understand State's Requirement
Every state has its own specific requirement, therefore it is a must you understand and meet your state's licensing requirements. Each state has its specific requirements for age, pre-licensing courses, post-licensing requirements, education requirements, etc. However, you can find information about each state's requirement standards at MortgageNewsDaily.com.
2. Take a Pre-licensing Course and Exam
This is a general requirement and may cover real estate financing agent conduct expectations, title transfer, leases, property management, and closing a deal. Therefore you will have to take a pre-licensing course from a real estate licensing school that is well accredited before taking the exam.
Moreover, you will be well informed by the pre-licensing course instructor on how to schedule, register, and pay for the licensing examination. The exam has two sections which the candidate must pass. There are state and federal licensing examinations which are made up of 60 to 100 questions. You can be able to retake the exam if you don't meet a passing grade. Although each state has its own rules on the number of times you may retake an exam.
3. Activate Your Real Estate Agent License
After passing the licensing exams, the next step is to submit an application for the license with the required documents and fees to your state's real estate agency. An agent is not allowed to work without a license issued by the state's real estate agency. Upon the application approval, you will receive your license by mail from the state's real estate agency.
4. Find a Real Estate Brokerage to Work With
As a new real estate agent, you are required to work with a broker who is licensed by the state to oversee all real estate sales or transactions to ensure they are done within the federal and state guidelines. Moreover, when looking for a brokerage company what you should bear in mind is its reputation and how it promotes properties, and also how many agents working with them.
5. Become a Realtor
A realtor is a member of the National Association of Realtors (NAR), which is a trade association. Although both real estate agents and realtors are licensed to assist buyers and sellers through the process of real estate transactions. Realtors operate under the NAR Strict Code of Ethics and is a realtor increases your credibility as a real estate agent and also gives you access to a variety of benefits such as real estate market data, research, and statistics, educational opportunities, etc.
Read Also:
Additional Notes
In conclusion, choosing a real estate agent as a career can be as flexible as you want it to be. It offers a great deal of variety, with different clients and different properties, you can work with lots of people, be your own boss and limit your working hours. Although getting a real estate license can take time and money, and most times stressful, it helps secure a rewarding job in the real estate industry.