Work in Canada as a Real Estate Agent
Do you have experience in the real estate industry and have been looking for a change of scenery? Well, if yes, then you may want to consider looking for work in Canada as a real estate agent.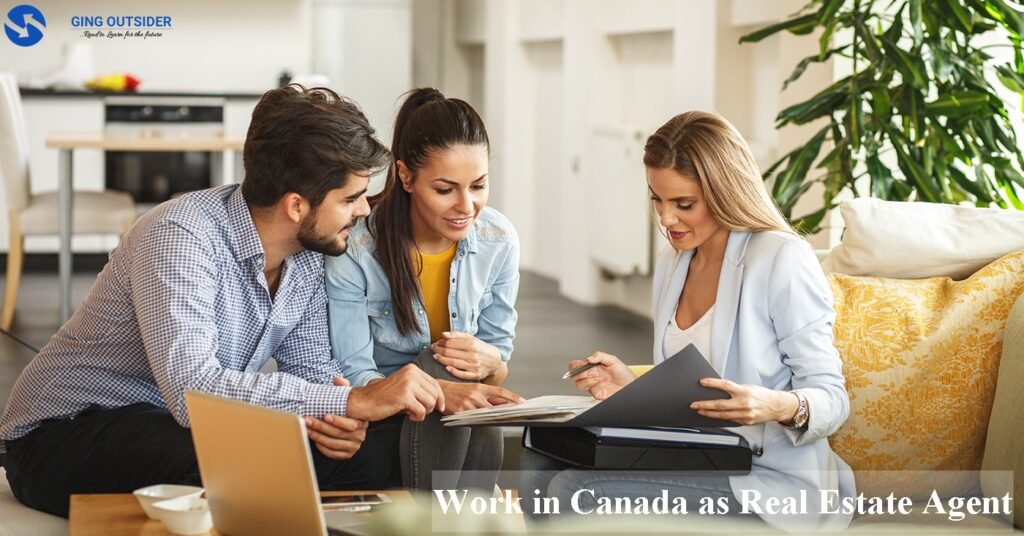 Moreover, Canada is a very vast country, and there are plenty of property development prospects in various parts of it. Statistics show that the real estate business is growing rapidly, and the Canadian real estate industry is recovering from the real estate bubble of 2016-17. However, this signifies that, sooner or later, there will be a lot of vacancies for real estate agents in Canada.
Over 95% of real estate agents work in the rental and leasing sectors, with anywhere between 200 and 50,900 agents actively working in various provinces and territories in Canada.
However, if you're looking for work in Canada as a real estate agent. Take a look at the top five provinces offering outstanding job opportunities in Canada and how you can get there. Moreover, we will also guide you on how to become a real estate agent in Canada.
Provinces to Find Work in Canada as a Real Estate Agent
Real Estate professionals are in high demand right across Canada. Moreover, you may even be able to secure a Canadian Permanent Residency with or without a job offer. Therefore, as a foreigner that wants to immigrate to Canada as a real estate agent. Here are the top provinces to find work in Canada.
1. British Columbia
British Columbia is one of the five provinces in Canada that have real estate agents noted on their list of in-demand occupations. Real estates agents working in British Columbia, Canada can expect to earn around $90,000 per year. Approximately 20,000 people work as real estate agents in BC with more than 95 percent employed in rental and leasing. Moreover, according to Job Bank Canada, job prospects are fair in the following regions in British Columbia:
Cariboo Region
Kootenay Region
Lower Mainland-Southwest Region
Nechako Region
North Coast Region
Northeast Region
Thompson-Okanagan Region
Vancouver Island and Coast Region
2. Manitoba
Manitoba is another province looking for skilled and experienced real estate agents and salespeople. Moreover, real estate agents working in Manitoba can expect to earn about $71,371, specifically in Winnipeg, Manitoba. However, approximately 1,850 people are working in this occupation in the province with about 95% employed in rental and leasing. The job prospects, according to Job Bank Canada, are good in Manitoba over the next 3 years. The job prospects are good in the following regions in Manitoba:
Interlake
North Central Region
North Region
Parklands Region
South Central Region
Southeast Region
Southwest Region
Winnipeg
3. Ontario
Job opportunities for Real estate agents and salespersons (NOC 6232) are fair in Ontario over the next 3 years. Real estate agents in Ontario, on average, make around $75,000 every year. Approximately 61,450 people are working in this occupation and more than 95% mainly work in the real estate and rental and leasing sector. Moreover, job prospects are good in the following regions in Ontario:
Hamilton-Niagara Peninsula Region
Kingston-Pembroke Region
Kitchener-Waterloo-Barrie Region
London Region
Muskoka-Kawarthas Region
Northeast Region
Northwest Region
Ottawa Region
Stratford-Bruce Peninsula Region
Toronto Region.
Windsor-Sarnia Region.
4. Prince Edward Island
If coastal living is a dream of yours, then Prince Edward Island (PEI) could be the ideal place for you to look for work in Canada as a real estate agent. Job opportunities for Real estate agents and salespersons are good in Prince Edward Island over the next 3 years. The average annual salary for agents in PEI is approximately $95,164. Moreover, approximately 200 people work in this occupation. However, more than 95% of real estate agents and salespersons mainly work in the Real Estate and rental and leasing (NAICS 53) sectors.
5. Yukon
Although Yukon may not be on everyone's list of places to relocate to in Canada, it certainly is a great opportunity for real estate agents or salespersons. Real estate agents working in Yukon can earn around $75,409 every year. However, there's no data on job prospects for a real estate agent working in Yukon.
What are the Requirements to Become a Real Estates Agent?
Moreover, just like any other career, there are some prerequisites to becoming an agent in Canada. Basically, you must be:
At least 18 years old
Graduated from 12th grade
Be a citizen of Canada
However, there are also some requirements for licensing such as completing a real estate course and more. You can also read a full guide on how to become a real estate agent for a better understanding of the requirements.
How Much Does a Real Estate Agent Make in Canada?
The salary of real estate agents in Canada is commission-based, which means that the amount that they make will depend on how many homes they sell or help buy. In other words, agents are in control of how much money they make, but it also doesn't guarantee any base salary should they not make any sales. Prospects will be better for individuals with the flexibility to work evenings and weekends to accommodate the schedules of buyers and sellers.
However, the average real estate agent salary in Canada is $100,000 per year or $51.28 per hour. Depending on which province or territory you are based in, you could earn anywhere between $24,746 to $134,783 per year. That of course will depend on your experience and the province you are working in. Entry-level positions start at $77,500 per year, while most experienced workers make up to $107,021 per year.
The provinces of Ontario and British Columbia, where Toronto and Vancouver are located, offer higher income opportunities for real estate professionals.
Canadian Immigration Options for Real Estate Agents
Real Estate Agents are in demand right across Canada and you may be able to secure a Canadian Permanent Residency Visa either with or without a job offer. Although you must have heard or read that having a job offer to move to Canada is a prerequisite to accessing certain Canadian immigration programs such as the Express Entry. As a real estate agent, you also have other options to secure your Canadian visa from the start.
However, real estate agents are eligible to access the Canadian immigration under the Canadian Government's Immigration program due to the demand for Real Estate Agents in Canada being so great they have included the occupation on the targeted occupations list, known as the NOC list (National Occupation Code In-Demand List). The code for Real Estate Agents on the NOC is under Real Estate Agents Code 6232
Express Entry
Express Entry for Canada is not a visa class at all, it is simply the method that Canadian Immigration uses to select the right candidates for a permanent residency visa. As highly skilled workers, real estate agents can apply to work in Canada under the Federal Skilled Worker Program (FSWP). To qualify for this program you will first need to meet the pre-qualification criteria. FSWP applicants first need to score at least 67 out of a possible 100 points before they can receive their Comprehensive Ranking System (CRS) Score.
Meanwhile, the CRS is the Canadian Immigration's way of rating potential permanent residency candidates according to certain factors such as Age, Language ability, Education, Skills, work experience, and other factors. Once you get your CRS score, your Express Entry profile will be entered into a draw pool with other applicants. Those with the highest-scoring profile will then get an invitation to apply (ITA) for PR status in Canada.
The Provincial Nominee Program
This Canadian immigration program is for workers who have the skills, education, and work experience to contribute to the economy of a specific province or territory in Canada. And also want to live in that province and become permanent residents of Canada.
There are 11 Provincial Nominee Programs (PNPs) in Canada that you could apply for permanent resident status through. However, five, in particular, have listed real estate agents as an in-demand occupation. And you could be making your way to Canada as an experienced agent with a Canadian job offer through one of the following PNPs:
British Columbia PNP (BC PNP);
Manitoba PNP (MPNP);
Ontario Immigrant Nominee Program (OINP);
Prince Edward Island PNP (PEI PNP); and
Yukon PNP
Start-up Visa Program
Canada's Start-up Visa Program targets immigrant entrepreneurs with the skills and potential to build businesses in Canada that are innovative, can create jobs for Canadians and can compete on a global scale. Moreover, between 21 and 48 percent of real estate agents and salespersons are self-employed in Canada.
Therefore, if you prefer to work on your own, you can also operate independently. You will however need to obtain a broker's license. To start your own realtor business, however, you will need to apply for your Canadian visa through the Start-up Visa Program. To be eligible for the Start-up Visa Program, you must:
have a qualifying business
get a letter of support from a designated organization
meet the language requirements
bring enough money to settle
Final Thoughts
Prospects for employment in real estate are expected to be favorable reflecting improved economic conditions over the forecast horizon. Moreover, if you want to work in Canada as a real estate agent the opportunities are limitless. You can apply for permanent residency, work for a company on a temporary basis or even start your own realtor business.