Check Out the Best Healthcare Jobs in Australia for Foreigners in 2022
Australia's healthcare sector is expanding rapidly and doesn't appear to be slowing down anytime soon. Opportunities that are both new and exciting are constantly developing, especially as healthcare continues to advance and change in the future. In this article, we'll talk about the top healthcare jobs in Australia for 2022 and how you can start preparing for them today.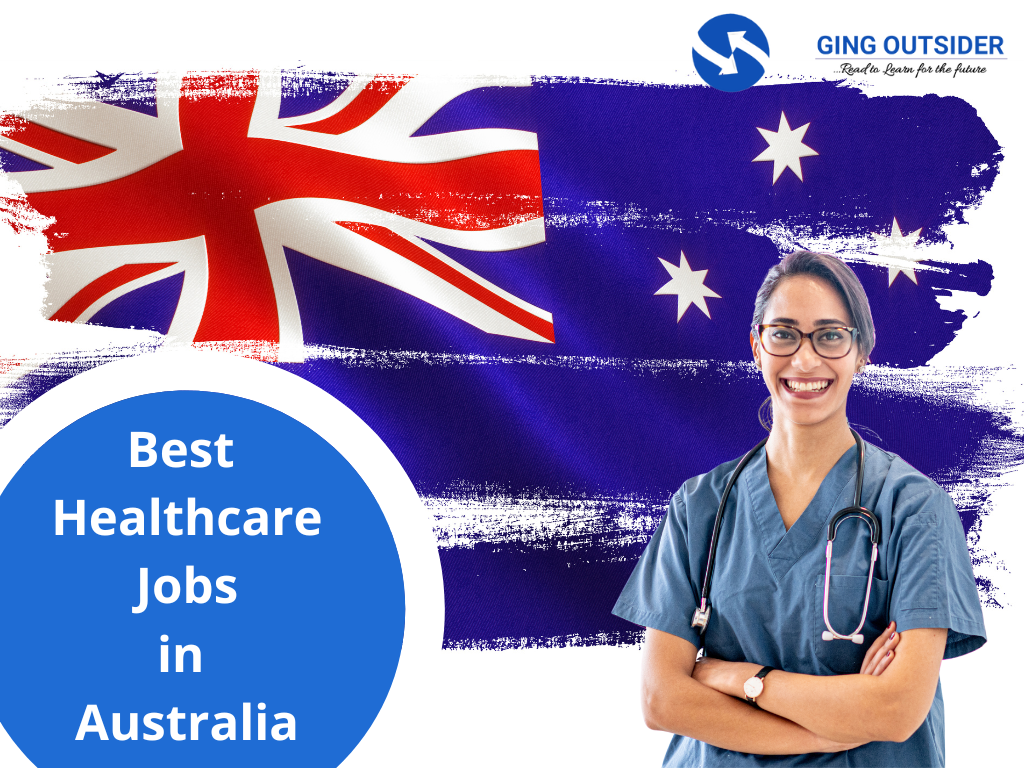 Working in the Australian Healthcare Sector
Given that Australia's aging population is anticipated to double by 2056, the significance of having excellent healthcare providers cannot be overstated (ABS). Thousands of new opportunities will be created for competent applicants in the healthcare industry over the coming years, despite the fact that the number of healthcare professionals is rapidly rising.
One of the largest employers in Australia in 2016 was the healthcare sector, which employed over one million Australians. The number of Australians working in healthcare-related professions has rapidly increased over the last several years, with positions such as nurse, therapist, and doctor being in great demand. More qualified personnel are needed than ever for Australia's healthcare sector to continue to lead the world in medical research and development. These are some of the top healthcare jobs in Australia for 2022 and beyond, despite fluctuating exchange rates and a constantly shifting work environment.
You might be wondering whether jobs in the healthcare sector pay the most or promise to make you the happiest if you're thinking about making the switch. There are various careers to think about with over 6,000 healthcare institutions and over 150,000 certified healthcare professionals in Australia! This blog will examine in-depth the top healthcare jobs in Australia that provide long-term career security, great earning potential, and room for promotion to assist you in making your choice.
Best Healthcare Jobs in Australia
If you're a foreigner interested in pursuing a healthcare career, here are the different options to consider.
Social Worker
A social worker is a specialist who aids people in overcoming obstacles in their lives. They have the ability to work with individuals, families, or groups, and they frequently specialize in areas like geriatrics, mental health, or child welfare. Social workers and their clients work together to evaluate and modify goals. When appropriate, they may also recommend support groups or other mental health specialists to their patients and clients. A bachelor's degree in social work is required, and many social workers also hold master's degrees. Social workers in Australia make an average of $85,000 a year.
Occupational Therapist
People of all ages receive assistance from occupational therapists in overcoming their physical, psychological, and social challenges so they can live independent and fruitful lives. Patients with illnesses including cerebral palsy, autism, and Alzheimer's disease are among the patients they work with. Occupational therapists treat patients who are injured, ill, or impaired by incorporating therapeutic elements into routine tasks. Children and young adults who are patients in educational or clinical settings are assessed for their abilities and given recommendations for suitable classroom accommodations. Occupational therapists must be licensed and hold a master's degree in the field. Occupational therapists in Australia make a median pay of $79,403 per year.
Osteopath
You will diagnose and treat individuals with musculoskeletal issues as an osteopath. To reduce pain and promote healing, you'll employ a range of methods, including massage, manipulation, and stretching. You must feel at ease working with patients because osteopathy is a hands-on profession. A four-year osteopathy degree is required if this is a field you are interested in. Osteopaths make $71,000 on average a year in Australia.
Speech Pathologist
A qualified clinician holds the position of speech-language pathologist, which is a job in the medical industry. A speech pathologist is a member of the medical community who is in charge of identifying and treating people with speech and language impairments. Patients of all ages, from newborns to the elderly, are treated by them. Typically, speech pathologists work in private firms, clinics, or medical facilities.
Moreover, a speech-language pathologist must have a graduate degree to work in the field. Speech-language pathology master's degree from reputable university necessary. In addition, state licensing and professional certification in the area of speciality are mandated by several states. The annual average pay for a speech pathologist in Australia is $82,492.
Personal Care Assistant (PCA)
A career as a Personal Care Assistant (PCA) may be ideal for you if you have a strong desire to assist people and a compassionate nature. To help a single employee within the firm, a personal assistant is frequently appointed. Depending on the needs of the employer, a personal assistant's responsibilities and tasks will change. PCAs offer assistance and support to those who are unable to take care of themselves due to age, disease, or disability.
The minimal educational qualification for a personal assistant is a high school diploma or its equivalent, but most employers favor applicants who have a certificate from a secretarial school. A high level of computer technology expertise and exceptional communication skills are also frequently necessary, along with prior experience working as a personal assistant. Additionally, effective individuals will demonstrate great multitasking and organizational skills. It's a fantastic moment to enter the sector because the demand for PCAs in Australia is anticipated to increase dramatically over the following few years. A Personal Care Assistant (PCA) typically makes $25 per hour in basic pay.
Registered Nurse
One of the most sought-after healthcare occupations in Australia is registered nurse. A registered nurse makes an average of $85,000 annually. Although many nurses today hold a bachelor's degree, registered nurses must at least have an associate's degree in nursing. A bachelor's degree in nursing is often the minimum requirement for RNs, and they also need to be licensed in the state where they intend to work. You must pass the National Council Licensure Examination in order to become a registered nurse (NCLEX). Hospitals, clinics, and doctor's offices are just a few of the places where registered nurses might find employment.
Enrolled Nurse
Anyone who wants to work in the healthcare sector should consider a career as an enrolled nurse. Under the direction of a registered nurse, enrolled nurses treat patients in a range of facilities, including clinics, hospitals, and nursing homes. You must successfully complete an accredited nursing program and the national registration exam in order to become an enrolled nurse. An enrolled nurse makes an average of $4,481 per month.
Assistant in Nursing
For those with little experience who desire to work in the healthcare sector, this position is ideal. You'll be helping nurses care for patients, which may be both satisfying and difficult. It's a terrific way to break into the healthcare sector, even though the hours can be long and the labor can be physically taxing. These professionals typically make $23 per hour.
Community Support Worker
People in the community who are struggling with disabilities, mental health concerns, or other issues are helped by community support workers. In addition to connecting people with the services they require, they offer both practical and emotional support. Community support workers can work in hospitals, schools, or other places in addition to social service organizations.
Community support professionals interview prospective clients and family members in order to build a dossier about their backgrounds. They often accompany clients to medical appointments and community events. Following up on meetings and other community events, community support professionals provide guidance or information about available resources, such as good financial management or childcare options. Community support specialists need an associate's degree or higher in communications, social work, or similar subjects and play a crucial role as members of an action team. A community support worker typically makes $30 per hour in basic pay.
Top Healthcare Job Posting Sites in Australia
These websites list healthcare jobs in Australia for foreigners. You can click on them and check them out.
AusDoc.JOBS
AusDoc.JOBS is a niche job board that features medical jobs from across the country. It offers a variety of posting plans, including print advertisements in Australia's leading medical publications.
HealthTimes
HealthTimes is an Australian career site for healthcare professionals. It offers a range of industry resources for job seekers in the medical field and features a job board.
MedicalJobsAustralia.com
MedicalJobsAustralia.com is an Australian job board that is dedicated to connecting employers with professional healthcare workers in a variety of niche medical fields.
Pharmaceeka is a free online pharmacy locum and employment service. It allows employers to advertise and manage jobs for all types of pharmacy work in Australia.
Nursing Jobs
Nursing Jobs specializes in posting nursing jobs in Australia. Job seekers can browse jobs and upload their resumes. With a choice of four posting plans and a database of more than 2,000 job seekers, employers are bound to find the right candidates for their vacancies.
Care Careers
Care Careers is an Australian job site for opportunities in the healthcare sector. It is a not-for-profit initiative that provides employers and job seekers alike with a standard job board, training and qualifications, and informational guides.
Australian College of Rural and Remote Medicine
The Australian College of Rural and Remote Medicine features a job board for job seekers and employers in the health and wellness industry.
Skilled Medical
Skilled Medical is a medical recruitment platform with global reach. With Skilled Medical, employers can advertise vacancies for medical professionals in locum, as well as temporary, and/or permanent positions across Australia.
RANZCO
RANZCO stands for the Royal Australian and New Zealand College of Ophthalmologists. The platform offers a classified section that helps to connect ophthalmologists in Australia and New Zealand with meaningful employment.
Global Medical Careers
As one of the world's leading healthcare job boards, Global Medical Careers advertises vacancies across the globe, including in Australia. The platform guarantees employers excellent exposure and access to an extensive database.
SEEK
SEEK is a leading job posting site in Australia that attracts millions of monthly job seekers. Employers can post jobs, effortlessly manage their ads, and search an extensive resume database.
Indeed
Indeed is a world-renowned job board that attracts millions of monthly visits. With Indeed, employers gain access to a range of tools and resources to streamline their recruitment process.
See Also:
Final Thoughts on the Best Healthcare Jobs in Australia
There are several of alternatives in Australia if you're seeking for a fulfilling career in healthcare. Also, there are many various professions available, from general practitioners to specialists, to match your abilities and interests. There will be a lot of job opportunities in the upcoming years due to the aging population and rising demand for healthcare services. Therefore, if you're considering a career in healthcare, this is a wonderful time to start making plans for the future.