Find the Top NOC B Jobs in Canada in 2022
NOC B Jobs in Canada for Foreigners: In Canada, locating a job has gotten much simpler. According to Statistics Canada, in February 2022, the unemployment rate was 5.5%. Immigrants now have more opportunities to enter the workforce as a result. Additionally, immigration to Canada has increased significantly during the past few years. Moreover, a quarter of all employment in Canada is held by immigrants.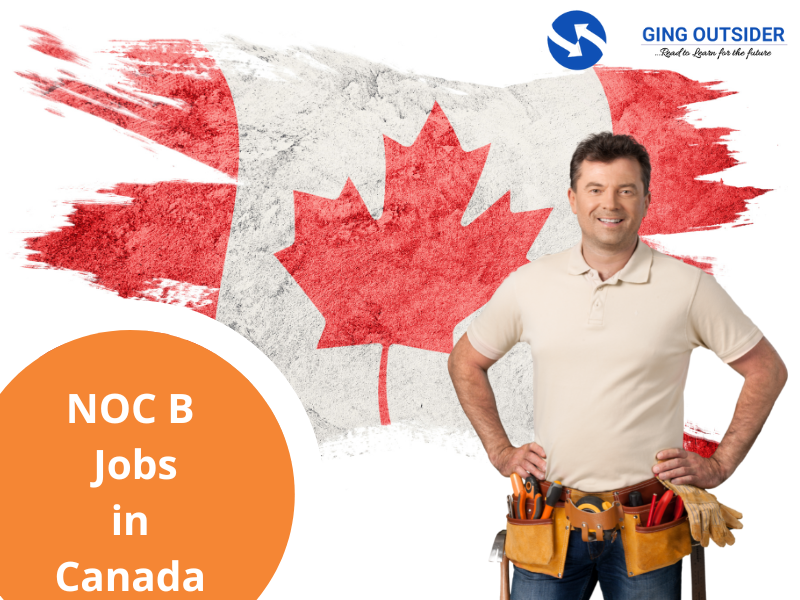 In the meantime, industries, including hospitality and food services, information, culture, and recreation, as well as retail commerce, have seen high job gains. In eight of Canada's provinces, employment increased, especially in highly skilled jobs, as defined by the National Occupational Classification (NOC).
What Jobs are Considered NOC B?
In our previous piece on the top NOC A Jobs in Canada, we explained what the National Occupational Classification (NOC) implies. The Canadian government uses the National Occupational Classification (NOC) system to categorize and monitor all professions in the country's labor market. It outlines various jobs in Canada, listing their primary responsibilities, educational requirements, and other pertinent details. In this essay, we shall, however, solely concentrate on NOC skill level B positions.
Jobs categorized as technical or skilled crafts are NOC B jobs. A college degree, specialized training, or an apprenticeship are frequently prerequisites. Chefs, plumbers, and electricians are a few examples.
Top NOC B Jobs in Canada for Foreign Workers
Moreover, here are the top in0-demand NOC B jobs in Canada:
Human Resources and Recruitment Officers (NOC 1223)
The demand for recruiting managers has grown significantly as more businesses turn to on-site and remote labor. The average yearly income range for human resource and recruitment officers in Canada is $54,045. In addition, JobBank Canada claims that Saskatchewan, Nova Scotia, and New Brunswick have promising futures.
Additionally, to work in Canada, recruitment officers often need a university or college diploma in psychology, business, human resources, or industrial relations. Additionally, you might require a Certified Human Resources Professional (CHRP) and previous administrative or clerical work experience.
Accounting Technicians and Bookkeepers (NOC 1311)
As more people launch their enterprises, there is an increasing demand for accounting technicians and bookkeepers. Accounting specialists and bookkeepers are needed for everyday business tasks, including keeping track of your company's finances, filing take returns, confirming financial transactions, etc. Furthermore, these experts make an average of $48,526 every year.
Meanwhile, the following provinces in Canada will have good job opportunities over the next two years.
Newfoundland & Labrador
Prince Edward Island
New Brunswick
Manitoba
Saskatchewan
British Columbia
Yukon
Nunavut
However, you'll need a secondary school or college qualification to be able to work in Canada as a bookkeeper.
Dental Hygienists (NOC 3222)
This is another field that has increased in demand in Canada. There are various opportunities in various provinces across the country. The following provinces have good job prospects for dental hygienists.
Alberta
British Columbia
Manitoba
Nova Scotia
New Brunswick
Prince Edward Island
Saskatchewan
However, you'll need a two- to three-year college diploma to be able to work in Canada as a dental hygienist, and if you intend on working in Saskatchewan, you'll need special licensure. Moreover, the average annual salary of dental hygienists is $83,924.
Paralegals (NOC 4211)
In Canada, there will be a huge demand for paralegals in 2022. Your primary responsibility as a paralegal is to support attorneys and other legal professionals with their research and document preparation. Over the next two years, the following provinces will require assistance.
Alberta
British Columbia
Manitoba
Nova Scotia
Saskatchewan
To work as a paralegal in Canada, you'll need a college certification or law-related bachelor's degree and on-the-job training. To provide complex legal services, you additionally need a provincial license. Furthermore, these professionals make an average of $52,677 annually in Canada.
Early Childhood Instructors
Canada gives its educational system top emphasis. The adult population there is the most educated on the entire planet. The public education system of the nation, which is free for all citizens and permanent residents, is renowned for its excellent standards. As an early childhood educator, your job would be to create courses and curricula for pupils between the ages of four and twelve. Additionally, in 2022 and 2023, these experts will be in demand in the following provinces:
Alberta
British Columbia
Manitoba
Nova Scotia
Prince Edward Island
Saskatchewan
However, to teach in Canada as an early childhood educator, you'll need a two- to four-year college credential or bachelor's degree, and a provincial license may be necessary.
Tips on How to Start Working in Canada
Moreover, the steps below will help you find a job in Canada.
Find out where your job is needed most.
Finding your ideal job in Canada starts with taking this crucial step. For each of the NOC B jobs in Canada mentioned above, we have included a description of the employment outlook. Finding where your abilities are most in demand can make it simpler for you to obtain employment and increase your chances of being granted a work visa.
Choose your immigration program.
The best benefit of being eligible for a NOC B job in Canada is that you could use one of three Express Entry programs to apply immediately for Permanent Residency (PR).
Start the application process.
Once you've determined where your job is in demand and the immigration programs you qualify for. Then, it is time to start the visa application process.
Bottom Line
NOC B jobs are regarded as highly skilled in Canada. Depending on your eligibility, you may even get permanent residency in Canada while working a NOC B job through immigration schemes like the Federal Skilled Worker Program (FSWP) or the Canadian Experience Class (CEC). Start your adventure to Canada by clicking the link below!