How Much do Lyft Drivers Make?
It's hard to ignore those sign-on bonuses that Lyft offers to bring in new drivers when looking for a new job or a part-time side hustle. It's no surprise that more people are becoming interested in working for Lyft and are finding employment in the gig-economy as Lyft drivers.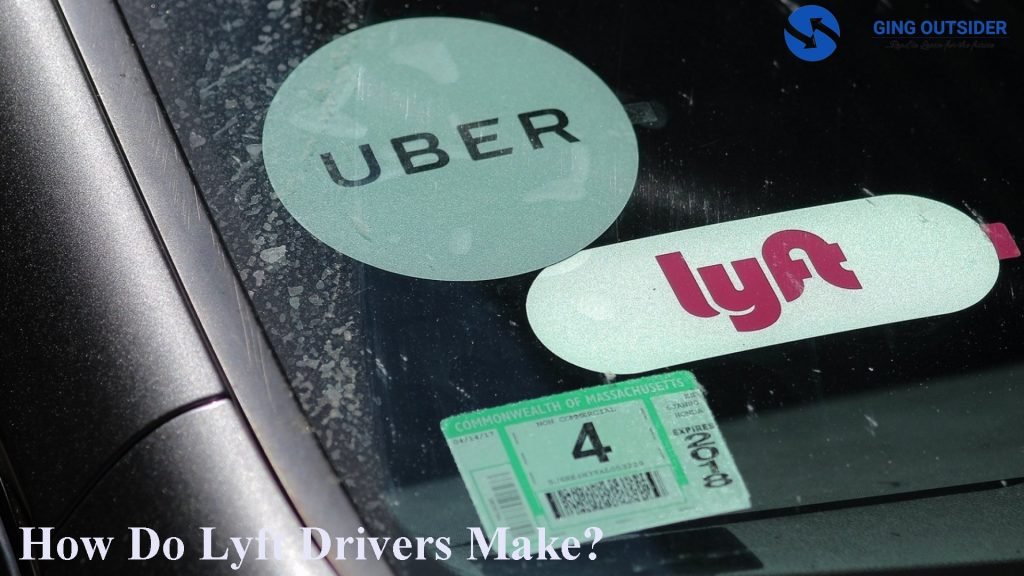 The gig economy and advances in technology have made for interesting job opportunities. One of these includes ridesharing organizations that use applications to connect riders to drivers. A few of these companies provide this service around the world, one of which is Lyft.
Moreover, driving for a ride-hailing app is one way to earn money while keeping the hours you choose. Lyft is one of the most popular ridesharing companies in the US, with many people using it as a source of income and a mode of transportation. So, driving for Lyft seems like an attractive prospect. However, people are becoming interested in working for Lyft and are curious about how much money they can make on the platform. Keep reading to learn more about becoming a Lyft driver and how much you could earn.
What is Lyft?
Lyft is a technology company that creates, markets, and operates mobile apps that connect drivers and riders. It is a rideshare platform currently operating in the U.S. and parts of Canada. The platform was established in 2012 by Logan Green and went public through a Nasdaq listing in March 2019. It is headquartered in California. It is the major competitor of Uber and one of the largest ridesharing companies in the world.
Moreover, Lyft is a ride-hailing app. It is similar to a cab service except users and drivers connect via a smartphone app. This makes ride-hailing a more convenient experience for people wanting a ride. Moreover, the app also provides services like vehicle rentals, motorized scooters, bicycle sharing, car rentals, and food delivery.
Lyft operates in over 600 cities in the U.S. and 10 in Canada. More than 2 million drivers operate on the platform, serving over 12 million customers. Customers book rides with their smartphones through the Lyft app, which is available via Google Play or the App Store.
How Does it Work?
Lyft works by using its mobile app to connect drivers and riders. However, as a rider or customer, you must install the mobile app, create an account, and request a ride when necessary. Then, the app will connect you to a driver who is nearby and will allow you to track the driver's movements as well as contact the driver if necessary via the app's text feature.
Other the other hand, as a driver, you must register with the company and follow the necessary procedures. When that is completed, you will be able to connect with other riders in your area. The app allows you to see the rider's pickup location and has a feature to help you navigate for those unfamiliar with the area. This helps to avoid any confusion between the two parties.
What is the Average Income for Lyft Drivers?
The amount of money that Lyft drivers earn varies widely based on several different factors. Estimates vary for how much Lyft drivers earn. Various sources show different results. Indeed reports an average income of $24,895 based on 207 self-reported earnings — 49% below the national average for drivers.
On the other hand, Glassdoor reports an average of about $35,360. Glassdoor estimates the average earnings for a Lyft driver to be $17 per hour based on 214 self-reported earnings.
However, Lyft drivers are not salaried employees of Lyft— when you sign up as a driver, you do so as an independent contractor. The figures that Lyft drivers earn can differ on several factors such as the driver's working hours, hourly rate, location, and rating. You will earn more as a full-time driver than a part-time driver.
Moreover, Keep in mind these amounts must also cover the costs associated with the job. You alone handle your vehicle maintenance, gas, auto loan repayments, and insurance. You drive on your own time, in your own car.
How are Lyft Drivers are Paid?
Lyft drivers' earnings are based on the time they spend driving with passengers in their car and the distance they drive with passengers. The legal structure of Lyft and other ride-hailing companies is such that Lyft drivers are not employees of Lyft. Instead, they are classed as independent contractors.
As a Lyft driver, you do not have the right to healthcare coverage, 401(k) contributions, or other employee benefits. You just receive your share of the ride revenue. Moreover, you are not protected by federal minimum wage regulations. In other words, there is no legal limit to how little you can earn per hour as a Lyft driver.
Lyft Drivers Earning Breakdown
Lyft calculates drivers' pay from the moment a driver picks up a client, beginning one minute after the driver taps "Arrive." Moreover, the app calculates charges by tallying several costs, which are as follows: Base fare, Time rate, Distance rate.
However, your pay as a Lyft driver can be broken down into contributions from four things:
Time: When there is a customer in your vehicle you get paid a per-minute rate for every minute that the trip lasts. This means even if you are stuck in traffic and not getting any distance you are still earning a time rate.
Distance: Just like traditional cabs, you also earn a per-mile rate, which varies by city, for every mile of the trip between when you pick up and drop off a rider
Tips: If a customer is very impressed by your service, they can leave a tip. You keep 100% of the tip value.
Bonuses: Bonuses are offered by Lyft to drivers in areas and at times when demand is highest. Some bonuses are scheduled but others come and go in real-time. The amount you can earn from bonuses varies.
Pros and Cons of Working on Lyft
Just like any other company, working for Lyft has advantages and disadvantages that influence people's decisions about whether or not to work for the company. Here are some of the advantages and drawbacks of working as an average Lyft driver.
Pros of working as a Lyft driver:
Flexible schedule: The best part about working as a Lyft driver is the adjustable hours because you can choose your working hours. It is a part-time job that allows you to set your own driving schedule based on what works best for you. Moreover, the flexibility allows you to pursue other entrepreneurial ventures or freelance jobs.
Instant payment: Lyft works in such a way that drivers can decide to receive their daily earnings immediately rather than wait two weeks by choosing the Express Pay option. This feature has a $0.50 transaction fee and is only available to drivers who have earned up to $50 in mentor payments, referrals, and earnings.
Moreover, with Lyft, you can set your schedule to work more during peak hours with more ride requests. This is because the price rises as the demand for rides rises. This is the advantage of surge pricing. You can use the driver app's feature to see where there will be more requests around you.
Initial sign-up bonus: This is a feature that Lyft provides to new drivers to help them earn more while remaining productive. Lyft drivers who complete up to 125 rides in their first 30 days are eligible for a $1,000 bonus. You will also receive a performance-based bonus based on various factors, including how well riders rate you.
Furthermore, you don't have to own a personal vehicle to join this company. You can rent or lease a car until you can afford to buy your own. Lyft provides a service where drivers can rent a car from them for no upfront cost and pay based on their earnings. You can also return the car if you don't need it full-time.
Cons:
Car payments: To begin working as a Lyft driver, you must own a car that meets Lyft's vehicle requirements or you must be able to afford to rent a car from the company. You will also have to account for the cost of gas for your car.
Car maintenance: Moreover, due to the constant use of your car, you will have to run a lot of car maintenance to avoid a complete breakdown. Maintenance costs are not cheap and are entirely the driver's responsibility.
Insurance: The driver is also liable for the insurance costs. This means that any accidents that happen during your trip to you, your car, or your rider are your responsibility. To begin working with the company, rideshare drivers must have rideshare insurance. Drivers will have to pay additional money as a result of this.
Taxes: Furthermore, the earnings also include taxes, which you must pay on your own. You will be required to pay a self-employment tax, as well as social security and medicare taxes. This means that drivers will have to set aside money for taxes and other bills because they are on contract and not company employees.
Terms and conditions: Every rideshare company has terms and conditions that drivers must agree to before they begin their contract with the company. Lyft is no exception. However, these terms and conditions may be rather frustrating for some as they also change repeatedly and must be adhered to by all drivers.
How to Become a Lyft Driver
You can follow these steps below if you wish to become a Lyft driver.
Online Application: Firstly, you will have to complete an online application, which requires you to submit a valid driver's license. Then, the company will perform a background check to ensure that you do not have a past of dangerous behavior. Moreover, you must also submit your insurance and vehicle registration. You may be asked to complete a vehicle inspection to ensure that your car that meets all the requirements.
Approval: After completing the online application, background check, and vehicle inspection, you will be approved to start working as a Lyft driver. However, you can only get approved if you pass your background check, submit all required documents, and pass the car inspection.
Start Earning: Furthermore, once you've been approved, you can start driving and earning money with Lyft. You must download and install the app and have the Lyft emblem and other documents in your car. You can then create your work schedule and begin receiving rider requests.
What Determines Lyft Drivers Earnings?
Several factors affect how much you'll make as a Lyft driver. It is important to understand what factors affect the amount of money you can expect to earn as a Lyft driver. The income Lyft drivers make can shift depending on a few factors. They are as follows:
Location:
Where you live determines how much you earn. For instance, the higher the cost of living is in your city, the more you'll make while driving for Lyft. Moreover, Lyft changes the amount that riders pay depending on the departure and destination location. As a driver, these changes affect the amount of money you earn from completing a trip. The amount you earn can change based on zone-based bonuses at certain times of the day
Surge Pricing
Surge pricing is when the app dramatically increases the price of a ride in areas and at times when a lot of people want a ride at the same time but there are not enough Lyft drivers available for everyone.
Such high demand could arise from rush hour and increase even more combined with rainy weather. Working during peak hours can dramatically increase your earnings. Part of the increased prices during surges are used to offer bonuses for drivers working at that time in that area.
Promotions and Bonuses
Lyft has a bonus program for drivers that offers several kinds of driver bonuses under specific circumstances. The platform schedules promo and bonus periods randomly, allowing hardworking drivers to rake in more pay. Lyft allows drivers to keep 100% of the bonuses they earn during promotion periods.
Tips for Earning More as a Lyft Driver
Moreover, the key to maximizing your earnings as a Lyft driver is to understand all the factors that alter earnings and use them to your benefit.
Maximize earnings by driving more: The amount of time you spend driving is the only factor that you have direct control over. The more time you spend working, the more you earn. That is to say, s it is best to maximize your hours at times and in places where there is a lot of demand.
Drive with a plan: Use the available tools to plan so that your work hours overlap as much as possible with times of high demand. Check scheduled bonuses and use them to decide the best times to drive.
See Also:
Bottom Line
In conclusion, driving for Lyft is flexible compared to a full-time, or even part-time, job. Drivers can work at their convenience as they take care of their business, creating time for hobbies and family members or friends.
However, the question of how much do Lyft drivers make does not have a simple answer. The answer varies widely depending on several factors, including location and customer demand. There are strategies you can use as a driver to maximize your earnings. The best strategy is to drive for long hours only when demand is high.