Real Estate Websites (Definition) and Best Real Estate Websites in 2022
A real estate website can be an information tool for both buyers and sellers. Buyers can preview hundreds of properties within a few hours just with their mobile devices or computer at their own convenience. Whereas sellers, on the other hand, are the ones whose property's profile is viewed by prospective buyers in the market. Therefore, it is a key tool that a buyer can use to find real estate that is for sale and also a perfect place to share listings as a buyer.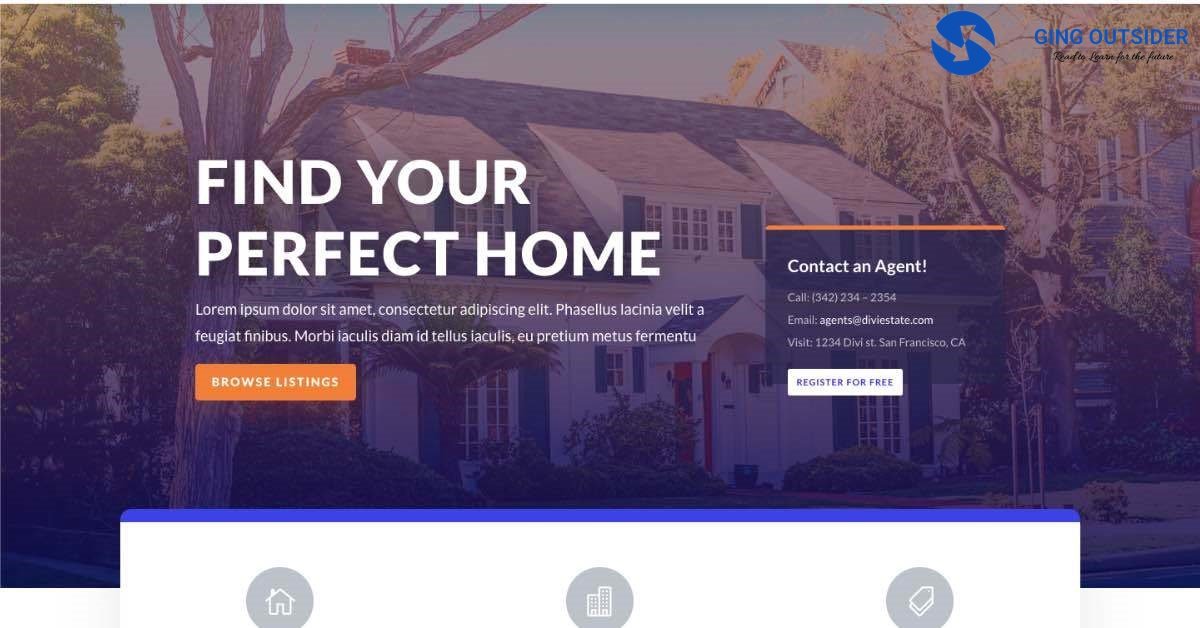 Moreover, real estate websites also provide a variety of resources that can assist users in determining a property's value and other real estate analyses they need. However, there are many real estate websites and nothing can be so overwhelming as finding the right website for your needs. Therefore, in this article, we have outlined the best real estate websites which have been reviewed based on performance, ease of use, customer reviews, their costs, and the support features they can offer.
What is a Real Estate Website?
A real estate website is an internet version of the real estate industry. It is an ideal place for a real estate agent to share listings, as a result, bringing exposure to sellers and making it convenient for prospective buyers to search for real properties. The listing agents or the sellers are the ones that post images, videos, and features online so that buyers can view them at their own convenience without the need of walking through them.
Moreover, a real estate website serves as a marketing platform for professionals that contribute to real estate transactions through the service they provide. The methodology in which websites get data is quite simple as the input can be manual in the case where a seller or a realtor updates a property's profile. On the other hand, the company's algorithm can update data it collected from regional MLS, or multiple listing services and other databases.
Read Also: Real Estate: Meaning, Types and How Real Estate Works
The 10 Best Real Estate Websites
Furthermore, real estate websites are split into two categories which are search engines and agency-specific sites. The real estate search engines display properties that sellers and agents update online for sale or rental. While real estate agency-specific websites upload databases of listings and link users with agents within the company. This list is not divided into two, it is a combination of the best websites in both categories.
However, here are the 10 best real estate websites:
Zillow: Best overall
Trulia: Best mobile app
Realtor: Most accurate and best for finding a realtor
Redfin: Best for local markets evaluation
Apartments: Best for renting
Coldwell Banker Realty: Best for in-person service
Homes.com: Best for finding a home's value
Re/Max: Best for luxury properties
Foreclosure: Best for foreclosures
Century 21: Best for reliability


Best Real Estate Websites
Details on each of the websites:
1. Zillow.com
Best for Overall
Zillow was established in 2006 in Seattle, Washington by Rich Barton and Lloyd Frink who are both former Microsoft executives. Zillow is the most popular real estate website on the internet with over 36 million monthly visitors. They have the most listings too, a database of over 130 million properties. Moreover, you can see a property's estimated value or Zestimate®, a proprietary algorithm that is termed by the company for their estimation on property valuation.
Furthermore, the company gets its posts from multiple listings services and other database sources. These non-MLS databases can be from auctions, sales by owner, etc. This means that Zillow is free to buyers and sellers, a property owner can manage his or her rental property listings, or sell them directly even without an agent. The company makes its money by charging ad fees to agents, lenders, etc.
However, Zillow is the most robust real estate website on the internet. It offers a variety of features and tools for buyers, sellers, agents, renters, and other home professionals/service providers. It also has over two dozen apps across various platforms, so you can search for real estate, list yours for rent or sale, connect with agents and lenders, save and receive push notifications of updates to searches, all these at your own convenience.
Moreover, Zillow's mobile app is one of the most downloaded apps on all platforms. It has a rating of 4.8 out of 5 with approximately 5.5 million reviews in the App store.
Check Also: Real Estate Agency: Meaning and How to Start a Real Estate Agency
2. Trulia
Best for Mobile app
Trulia was founded in 2005 in San Francisco, California it is now owned and operated by Zillow. Trulia is best when it comes to a mobile app because of its transparency making it easier for users. It has various features that make it very easy for homeowners and renters to find a property that matches their tastes and preference. The Trulia mobile app also has other features like filters and a custom keyword search.
Moreover, the website offers tutorial guides to help the user maximize their experience when they make use of the app. However, Trulia also does not support some features that might be interesting to some users. Such as; the need to sign in before you can be able to save your search criteria, and it does not provide the option for homeowners to list their property for sale.
Furthermore, Trulia's mobile app has a rating of 4.5 stars with more than 208,000 reviews on the Android platform while it has an average of 4.8 rating stars in the Apple store. However, the app is fun to use, free and user-friendly which makes Trulia stand out as the real estate website with the best mobile app. Other interesting features about the website are that it includes factors like school ratings, area crime data, places to shop and eat, etc. Such factors can be used to analyze a neighborhood, including reviews from people who live in the area you are searching.
3. Realtor.com
Best for: Finding a realtor and accuracy
Realtor was launched in 1996, making it one of the first real estate companies to operate digitally. It is operated by Move, Inc. and is mostly known to be associated with the National Association of Realtors (NAR). Just like most real estate websites, Realtor sources most of its listings from the Multiple Listing Services. Typically, 99% of all MLS listings are in the website's database.
Furthermore, the website's mode of operation is a straightforward one. Focus on finding and connecting users to professional and trustworthy realtors, who abide by the NAR's ethical code. You can directly search for a realtor on the website, as it has a register of over 1 million real estate agents.
However, the company's mobile app has approximately 260,000 reviews with 4.5 stars rating in the Google play store. While in Apple store, it has a 4.7 stars rating and approximately 280,000 reviews. Moreover, Realtor offers most of the features the others have including the find a realtor feature.
4. Redfin.com
Best for Local market evaluation
Redfin is a real estate brokerage founded in 2004 and also based in Seattle. The website offers homeowners a discounted fee, allowing them to sell their properties for as low as a 1% listing fee. Being a broker makes Redfin a real estate agency-specific site, meaning that they only connect you with the agents that work in their brokerage.
Moreover, Redfin provides interesting features that may be less comprehensive than other sites but they can be useful. Such features include; home buying guides, an affordability calculator, they also offer 3D tours of home listings exploring the home of your interest through a virtual tour.
5. Apartments.com
Best for Renting
Apartments are considered the best website for renting, it was founded in 1992 and was later bought by the CoStar Group (CSGP). The site displays not just apartments; but also homes, condos, and townhouses for rent too.
Furthermore, the website offers certain unique features which include the Polygon tool. Which lets users draw their search criteria on a map, and find their ideal properties within the area. However, the website's mobile app has more than 38,000 reviews in the Play store with a rating of 4.6 stars. While in the Apple store, it has over 100,000 reviews and 4.8 rating stars.
6. Coldwell Banker Realty
Best for In-person realty
Coldwell Banker is one of the oldest real estate entities in North America, the company has been in the real estate business since1906. Coldwell Banker Realty has various operating brokerage offices in more than 45 countries across the globe.
The real estate website sources its listings from the MLS. The user will be required to sign up in order to connect with a local agent and gain direct access to the Multiple Listing Services. Coldwell Banker realty is the best when it comes to providing an in-person guide on the property buying process. The website offers useful features and also notifies you via email about your search criteria.
7. Homes.com
Best for: finding a home's value
Homes.com has over 3 million listings sourced from MLS and other real estate websites. It is the best real estate website when it comes to finding a home's value. It has a unique feature that gives users the chance to view a property's value and compare it with the value of similar homes in the same area.
Moreover, it offers other interesting features that display each listing's rating and distance from local schools, estimated property valuation, and a virtual tour option. It also offers a step-by-step guideline to becoming a property owner.
Read Also: Real Estate Investment Trusts(REITs): Meaning, Types and How REITs Works
8. Re/Max
Best for Luxury properties
Re/Max, short for Real Estate Maximums was established in 1973. It is an American international real estate company that operates through a franchise system. The company has approximately 6,800 offices with over 100,000 agents operating in around 100 countries.
Moreover, Re/Max lists a special collection of luxury properties in which they are the best when it comes to it. The website's features include listing basic home information, which includes economic statistics, unemployment rates, earthquake probability data, etc.
9. Foreclosures.com
Best for: foreclosures
Foreclosure. co was founded in 1999, not just by the name it is the best real estate website for foreclosures on the list. It has over 750,000 listings nationwide. The website features tutorial articles and videos, checklists on the process of buying a foreclosure. On the other hand, you will be required to sign up for a 7-day free trial period with a credit card, and also pay a monthly fee of $39.80.
However, the mobile app has 1.5 rating stars in the Apple store and 2.6 stars in the Google play store. The app has a poor rating because it is updated frequently on the website.
10. Century21.com
Best for Reliability
Century 21 was founded in 1971, it is a real estate brokerage. The company has around 14,000 broker offices operating in 86 countries. The website can offer information about a local area, schools, local weather, and in-depth demographic data. Century 21.com provides users with a range of resources to assist them when it comes to buying and selling a property.
Check Also: Insurance Policy: Meaning and Types of Insurance Policies
Additional Notes
In conclusion, real estate websites add value to both buyers and sellers. Homeowners upload the features of their property, within a few hours it will be viewed by hundreds of people looking for homes to buy. Likewise, the buyer, can hundreds of homes in the real estate market within a few hours at their own convenience.
Moreover, according to the 2020 National Association of Realtors survey, 51% of buyers found the home they bought on the internet. 28% through their realtor, and 7% from a yard sign or open house. This only proves that people find it much easier to perform their operations on the internet, especially the sellers.